Joe Weisenthal has a post up this morning about the awful action in gold these past few years. He posted a chart of gold's price action from FRED, which I've annotated to remind you of something that actually happened exactly three years ago – a moment in time at the end of the summer of 2011 during which the investor class had temporarily lost its collective mind.
Investors, you see, had pushed the assets under management in State Street's GLD ETF to a higher level than the assets held in its S&P 500 ETF (SPY). In other words – investors had decided, in the aggregate, that securitized rocks were worth more than the entirety of American capitalism and free enterprise.
The combined productive fruits of American business and labor were, for a moment, worth less to investors than a paper precious metal proxy.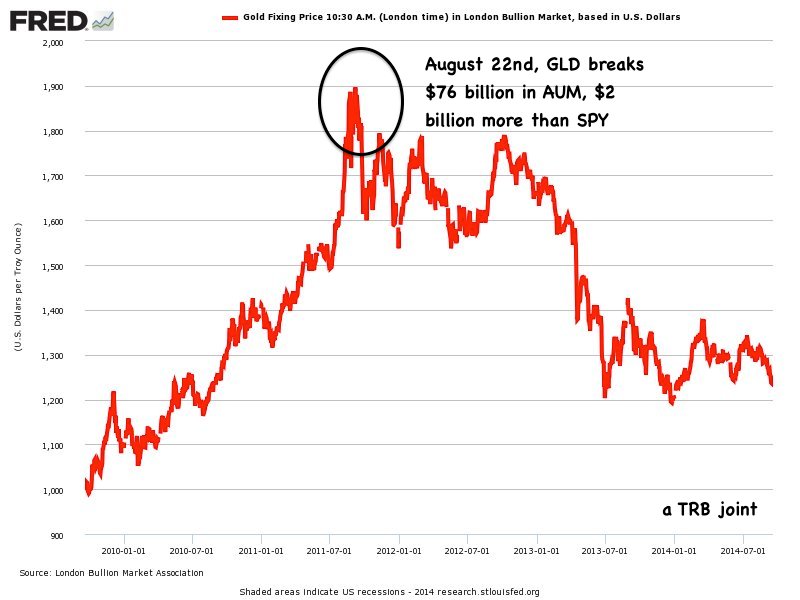 Amazing.
Here's Murray Coleman, writing at Barron's on the day it happened, August 22nd 2011:
The SPDR Gold Trust (GLD) on Friday moved past the grand-daddy of all ETFs, the SPDR S&P 500 (SPY), as the leader in overall assets.

According to data provided by State Street's (STT) Global Advisors ETF unit today, here's a breakdown of assets as of Friday's close:

But something to keep in mind about these very fluid numbers:

SPY over the past several months has been averaging more than 200 million shares traded a day.

GLD's average volume is slightly more than 18.3 million a day.

Also, SPY entered today's session with a return of -9.6% on the year. Meanwhile, GLD's net asset value was ahead by nearly 31% so far in 2011.
Josh here – gold's massive outperformance of the S&P 500 over several years – magnified especially during 2011 by the twin Treasury and Euro crises – was the primary driver of this event. We're always ready to chase something, usually the thing that's just rewarded us the most. No one was immune. I know several prominent investment advisors who were baking in a symbolic 5 or 10% sleeve of GLD or GDX (the miners) into their asset allocation models just to show their clients that "they get it." Many famous and prominent hedge funds had also been bitten by the gold bug and had bought into the inflation madness so prevalent at the time, including Klarman, Einhorn and, most famously, Paulson.
It didn't take long for this situation to reverse itself, however. A renewed commitment on the part of the Fed and ECB to not allow the system to collapse got productive assets like bonds, REITs and equities headed higher. As inflation failed to manifest itself and balance sheets around the world began to heal, the endgame trade looked dumber and dumber, and GLD went back to the sale rack, discounted nearly every month since.