This week marks the one-year anniversary of my registered investment advisory firm, Ritholtz Wealth Management.
As co-founder and CEO, I've spent the last 12 months learning the process of starting an investment management firm, laying the foundation for sustainable growth, recruiting high-quality staff members, hiring (and firing) vendors and building in-house products and services that are competitive in the marketplace, relevant to our areas of expertise and scalable for the virtually limitless opportunity ahead of us.
I'd like to share some of these lessons because I think they're applicable to my entire audience – private investors, my fellow industry pros and business people around the world.
1. Mission Buy-in: Launching a firm, in most cases, requires partners, employees and customers. All of them have to buy in. Everyone has to believe in the mission. In order to get that buy-in, you must be absolutely clear about what you want to achieve as well as what you will and won't do in order to get there. In the case of RWM, our launch began with a Mission Statement that we felt perfectly encapsulated what we stand for:
Ritholtz Wealth Management is a Registered Investment Advisory firm solely focused on providing financial planning and wealth management services to our high net worth clientele. We combine market wisdom, technological savvy and planning expertise to enable investors to achieve their specific life and retirement goals.
The "solely focused" part was important to me. Having been a part of firms that weren't exactly sure what they were – brokers, wannabe investment bankers, prop traders, private equity and blah blah blah – I was determined to build a culture around a single purpose: Helping people fund retirements, college educations, vacation homes, medical care, etc through the intelligent allocation of their investable assets. No banking, no product sales, no cross-selling, no recreational speculation, no BS. I'll explain later why this specificity was so instrumental for us.
All of our clients are with us because they've bought into the mission and its paramount importance. All of our employees live and breathe this mission every day.
2. Control: Barry and I are well-known in the industry and when word got out that we were going to be launching something, lots of people expressed interest in backing us, including some names you probably know. We entertained a few of these conversations but ultimately decided that the best thing to do was to maintain complete control and fund the firm entirely with our own capital. The main reason for this was pragmatism – in order to launch on our own timetable, we didn't have the ability to wait for checks to be written or documents to go back-and-forth between three sets of lawyers.
The secondary reason at the time, but in hindsight, the most important, was we didn't want to be beholden to anyone or have to make short-term decisions that could jeopardize the future. Barry and I jointly make every decision together, with input from our partners and staff, and we never do anything for the sake of what feels good today. We reinvest constantly and default toward picking the highest quality solutions and vendors almost across the board. With the pressure of an outside investor clocking our day-to-day profitability, we would probably not have been in a position to do this. We're open to the possibility of outside investment at some point down the road, but having control in the early stages meant we could take our time and get things right.
3. A-Listers Only: Barry and I have an unspoken policy of working with A-Listers Only. Both of us have spent time in the brokerage industry and we've seen what happens when the inmates are allowed to run the asylum – we've seen how firms desperate for growth have allowed the wrong element in the door in the name of expedience. My first book was, in part, the story of what happens when you work for and with the wrong people, even when you've got the best intentions. Neither of us are willing to go through anything like that ever again. I would rather be unemployed than work for or with someone I didn't trust or who did not share my zeal for doing well by doing right. If you think that's a spiel, you should see the parade of potential hires and partners we've told to go take a walk.
I don't do business with B-listers, C-listers, potential headaches, liars, con artists, wannabes or big shots. I'll never hire an advisor to work in this firm just because of the assets he says he can bring. I'm definitely leaving money on the table by being this doctrinaire. I definitely don't care. I'm crazy like that.
4. Client Fit: We're lucky that we can choose which prospective clients to take on and which clients to turn down. Not every practice has that luxury. I've come to understand that client fit is everything. No one can be all things to all people and not every lid fits every pot. Taking on the wrong kinds of clients with the idea that you can change them is a recipe for disappointment on all sides.
When potential clients inquire about our portfolios or ask for recommendations, we first invite them to a "client fit" conversation. This is where we explicitly lay out what we will and won't do for them. This is where we ascertain whether or not we have the ability to meet their objectives. Uber-advisor Ric Edelman likes to explain to potential clients that "This is not Burger King and you cannot 'Have it your way.'" I'm sure he puts it more politely, but over decades in the industry, he's learned that without great communication and expectations management from jump street, there will never be a successful relationship. It took me a long time to learn this lesson but it's something I became extremely committed to a few years back. We have a finite amount of time and resources, it is our responsibility to dedicate these to our real clients and not to "take a flyer" on inappropriate situations.
We don't take hot money, we don't cater to people who are trying to "get rich" through the markets and we don't agree to take undue risks and race the indexes just to close a new account. If we take you on as a client, it's because we think we can help you and we can tell that you actually want to be helped. There are plenty of firms out there who will promise you those other things. Best of luck.
It should be noted that despite our selectivity, we've been able to grow assets under management at an annual rate roughly four times faster than the average RIA firm.
5. Invest in Technology: We're a tech-centric practice. I mentioned earlier that one of the first decisions we made was to spend money on the best available solutions. I've rhapsodized on this site about Riskalyze already. In addition to that excellent product, we've standardized our practice on what we consider to be the best performance reporting product, the best CRM, the best web designers, the best compliance archiver, the best rebalancing software, the best laptops and desktops, etc. Are you noticing a pattern? We did this deliberately and at a high cost from day one. One year later, I wouldn't change a thing. The benefits accrue to our clients and our employees every day. We find other ways to cut costs, but we never skimp on user experience or productivity.
6. Ask for Assistance: A few months prior to setting out on our own, Barry allowed me to vent about all of the reasons why we couldn't pull this off. I made a massive list of everything that had to be taken care of that was outside our core competencies. You can probably tell which one of us is the Big Picture optimist and which of us is the irritable skeptic by now 🙂
Fortunately, a guy named Jon Prober came into our lives at that moment and within a few meetings, everything I was freaking out about began to get handled. Jon's got a law degree and an accounting degree and he became our consultant extraordinaire. He's tenacious, aggressive and meticulous to the point of obsession. Jon handled everything from the payroll processing to the office lease to disability insurance to our employee retirement plan. We've thrown tons of disparate tasks at him and we haven't yet come across a single thing he couldn't do.
By asking for help and recognizing our own limitations, we've been able to focus on the most important things that make us who we are. Similarly, we've gotten help with our blogs, with our CRM build-out, and with our portfolio analytics. We've had consulting work done for us by BlackRock, Vanguard and State Street simply by being humble enough to ask. You can't do everything yourself, especially if you want it done right. Know your strengths, and know when to ask for help – even if it costs you money or pride.
7. Learn From the Best: The first day we opened up shop, my friend Michael Kitces happened to have been in New York and he came by to wish us well. Kitces being the foremost authority on the wealth management business in America, we pumped him for advice and information until he was able to sneak out a side door. We learn from guys like him all the time. Our idols in this industry are people like Mike, like Carl Richards and Larry Swedroe of Buckingham, people like Rick Ferri at Portfolio Solutions, people who have figured it out and are willing to share what they've discovered with others.
We're going to be here for a long time and we're going to get bigger. We want to emulate the best and build on the practices that have made them successful. I love meeting people like James Osborne at Bason Asset Management and Blair duQuesnay at Thirty North and comparing notes. It makes me better as a firm leader and as an advisor.
8. Think big: Okay, this last one is a cliché but I swear by it. Barry thinks big and so does my partner Kris. They've pushed me to think bigger than I otherwise would have on my own. This fall we're rolling out some products and services for clients that have the potential to rocket our growth forward for years to come, if we can execute. They're way outside of the scope of what most first-year RIA firms are even contemplating, but I've been convinced that they're both doable and worth doing. We're going for it.
One way I've learned to get comfortable about taking on new initiatives like these is to ask myself "What happens if we don't? What happens if someone else takes this idea and runs with it?" It's a great heuristic if you're a risk-averse person like myself.
***
We have a lot of work to do to become the firm I want us to be, the firm I know we can be. But these eight lessons have brought us a long way since last September. I hope you find them helpful for all of your endeavors as well.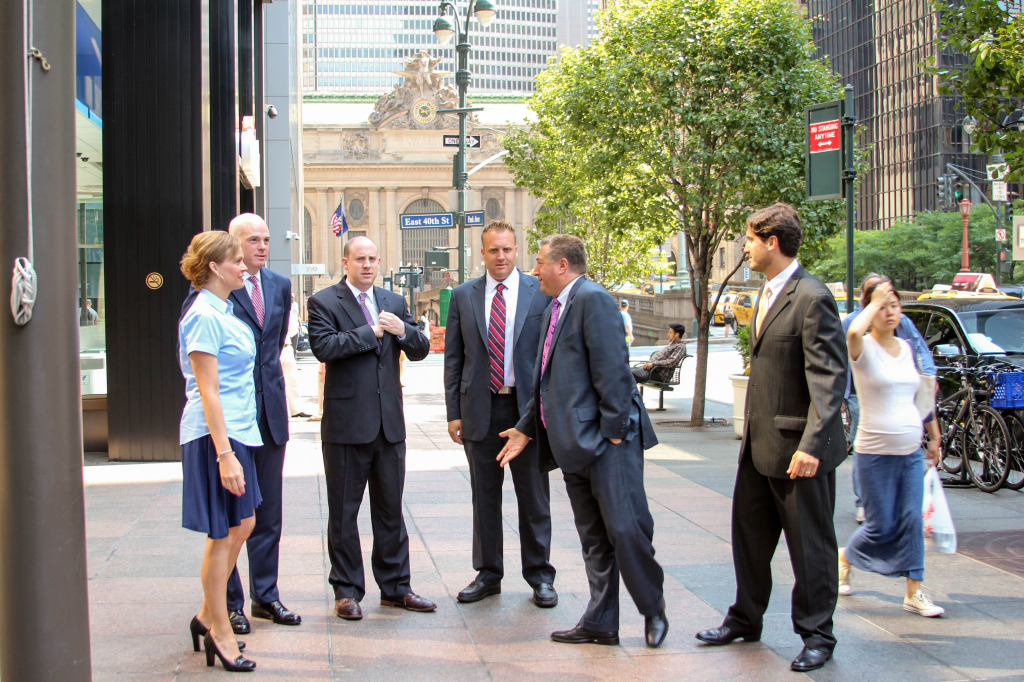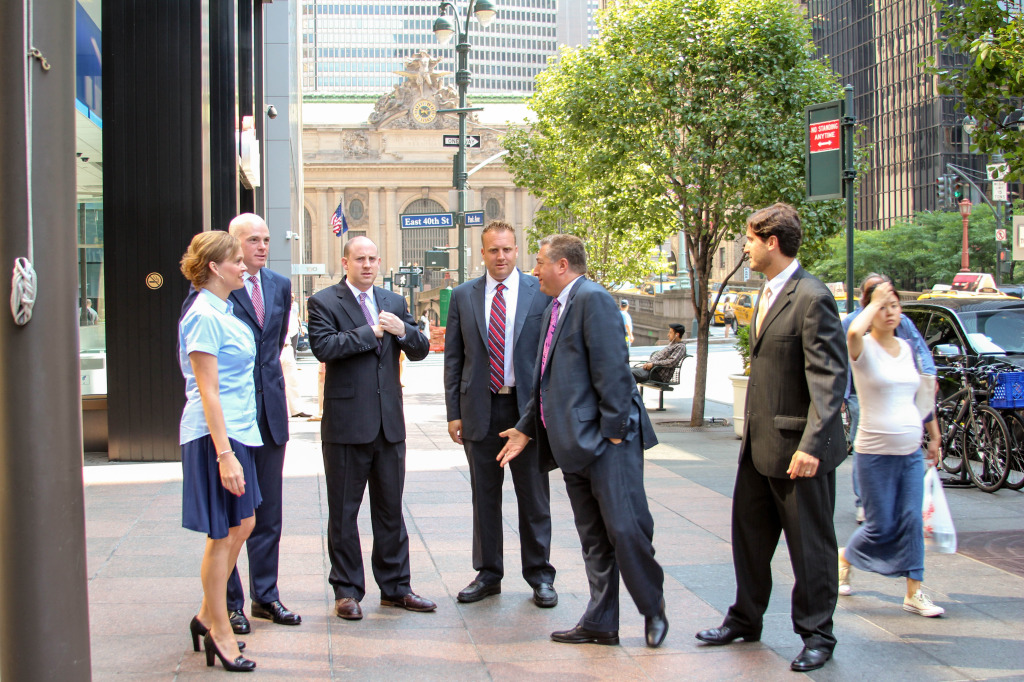 "Piece of cake, guys."  
Visit Ritholtz Wealth Management to learn more about us.