The S&P 500 has hit Savita Subramanian's target of 2000 and has since backed off (as markets are wont to do upon coming into contact with big, fat round numbers). Tactically, she suggests that locking in gains and being more selective wouldn't be a bad idea at this juncture.
The BofA Merrill Equity & Quant strategist sees the following three risks as the most present for the remainder of the year…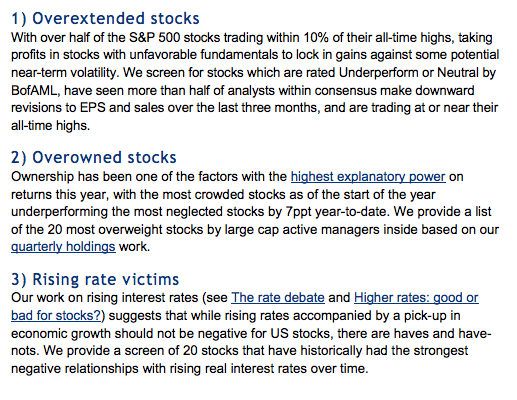 Hard to disagree with any of these themes. Subramanian's work has been incredibly prescient for the last several years. And she didn't even need to go into the rapidly deteriorating geopolitical situation to make her cautious case (like a good quant, she sticks to the math and leaves the macro commentary for others to fiddle with).
Source:
Shopping for shorts in September
Bank of America Merrill Lynch – September 15th 2014