Ari Wald, technical analyst at Oppenheimer Asset Management, is telling clients to remain constructive on the bull market given the intact-ness of the long-term trend. He sees the weakness last week as a retest of the breakout level, although he does advocate a more selective positioning in case the trend fails to hold. In other words, keep only your core positions on if your horizon is short-term. If it's long-term, nothing to see here just yet.
Overall, Wald prefers large caps to mid- and small- given how they're acting in relative terms.
Here's his chart and commentary:
Overall, our near-term view has become cautious, but we believe bouts of volatility are opportunities to buy an intact bull cycle. We recommend maintaining core positions and investing selectively until near-term conditions strengthen.

Longer term, we advise against a bearish posture and favor the continuation of the bull market cycle over the start of a devastating decline because historically it has been rewarding to stick with the S&P 500's uptrend, specifically when the index is above its 200-day m.a.

STUDY: Since 1990, the S&P 500 has averaged a 5.4% gain in the forward six months when the index is above its 200-day m.a. vs. a 1.6% gain when the index is below this smoothed trend.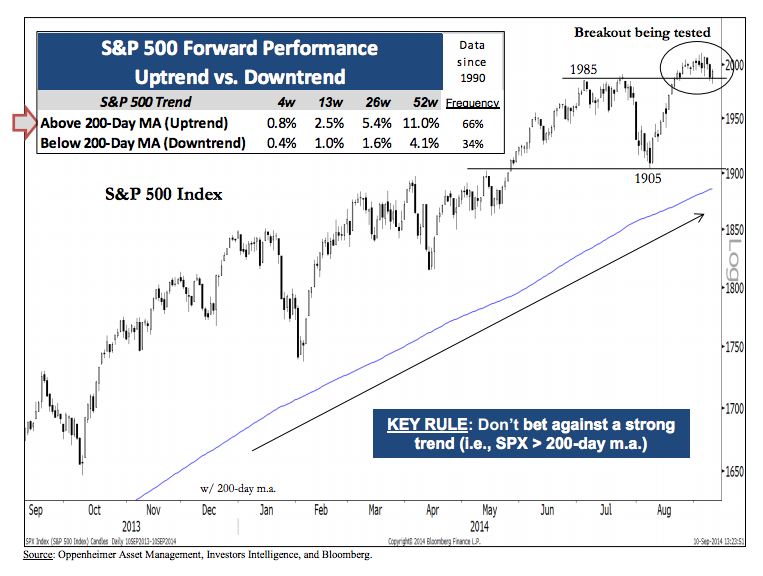 Source:
Inflection Points
Oppenheimer – September 15th 2014