Savita Subramanian's US Equity and Quant Strategy team at Merrill did some work on relative sector performance during interest rate tightening cycles recently. In the below table, she gives us a sense of which areas of the stock market tended to fare best and worst in the months leading up to and during the rate hike periods during the last three cycles…
Market and sector performance during tightening cycles
Historically, the market has actually done well during tightening cycles, with
average S&P 500 returns of +16%. Risks to equities may be more pronounced in
the six months leading into the first tightening, which have historically been softer
but on average still positive.

During the last three Fed rate tightening cycles, Consumer Discretionary
consistently underperformed the market. Globally oriented cyclical sectors such as
Tech typically fared best. We note that bond proxies such as Telecom and Utilities
are the most negatively correlated with rates, and have also underperformed during
several Fed tightening cycles with the exception of 2004-2006.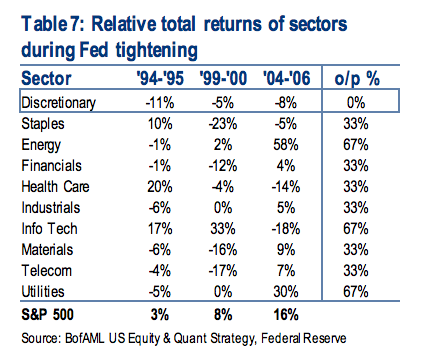 Source:
The rate debate
Bank of America Merrill Lynch – August 18th 2014