For the last four years I've predicted that the biggest trend in finance would be the death of the retail brokerage model and the rise of the investment advisory segment. In my 2012 book, Backstage Wall Street
, I suggested that this shift would be inexorable.
Last year, this trend seemingly went into hyperdrive. RIAs saw their AUM explode, with just about 20 percent growth in assets under management on average.
A graphic from Investment News depicts the makeup of these gains: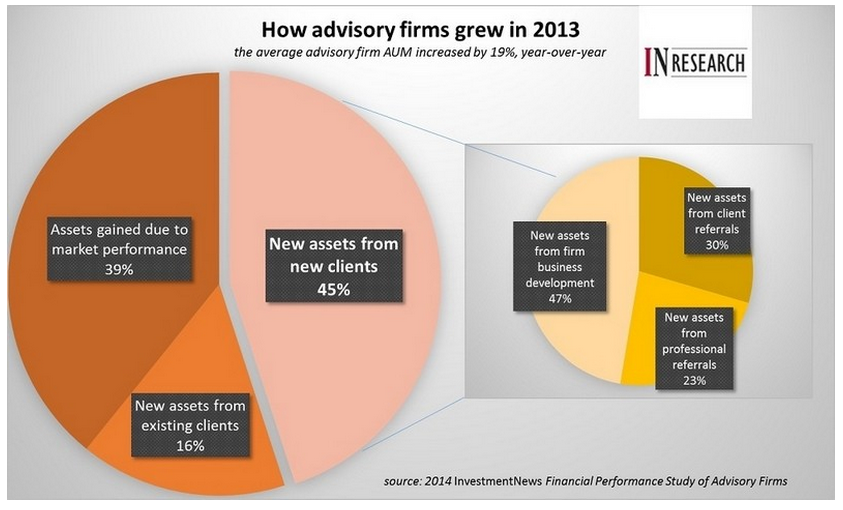 According to IN's Matt Sirinides, "The study, which tracked data from more than 300 firms, found that while the markets accounted for 39% of the total AUM increase at the average firm — the S&P 500 gained 30% in 2013 — new clients accounted for the largest increase, with 45% of new assets."
The response within Wall Street's largest brokerage firms has been to incentivize advisors to remake their practices, catering to the new consumer preference for fee-only advice. The response from Wall Street's smaller brokerage firms has been to go out of business.
In the next phase, a cadre of large, nationally recognized RIAs will gain sufficient size and scale to truly face down the wealth management departments within the Merrills and Morgans of the world. This will happen as the Merrills and Morgans themselves begin to look increasingly RIA-like (more on this here). Wirehouse advisors do maintain a handful of advantages over their RIA competitors – namely access to IPO syndicate as well as a seemingly bottomless fountain from which to push offer portfolio-based loans – but they cannot claim to be true fiduciaries so long as they sell these products to their customers. RIAs, then, will continue to have that particular differentiator to themselves.
It will be interesting to watch this play out, as the upstarts get bigger and the incumbents seek to emulate them.
Source:
The real reason behind advisory firms' big gains in AUM (Investment News)