This morning, bank of America Merrill Lynch put out a small tidbit on the "downward wage rigidity" suggesting that this cycle has been very abnormal in terms of wage gains. Historically, a drop in unemployment meant a quicker uptick in how much employers were willing to pay in raises to retain workers. My partner Barry went into detail on this topic for our monthly client letter yesterday. Suffice it to say, the labor market is doing just fine, but would "feel" considerably better if this last component of recovery – bigger paychecks – would finally materialize.
Here's Ethan Harris & Co of Merrill's global economics team:
More jobs, no pay increases: A recent paper from the San Francisco Fed argues that if wage growth is already low and there is a major recession, many companies will face a choice of either cutting workers or cutting wages. Those who choose to hold the line on wages, end up paying the workers more than they would like, resulting in "pent-up" wage deflation. Hence, when the recovery occurs, they will not raise wages initially, but will wait until higher wages are fully justified. The data suggest that downward wage rigidities are particularly severe in this cycle. The share of workers reporting no changes in nominal wages is currently 16%, up from 11% prior to the crisis. This is historically high and has remained notably elevated despite the drop in the unemployment rate.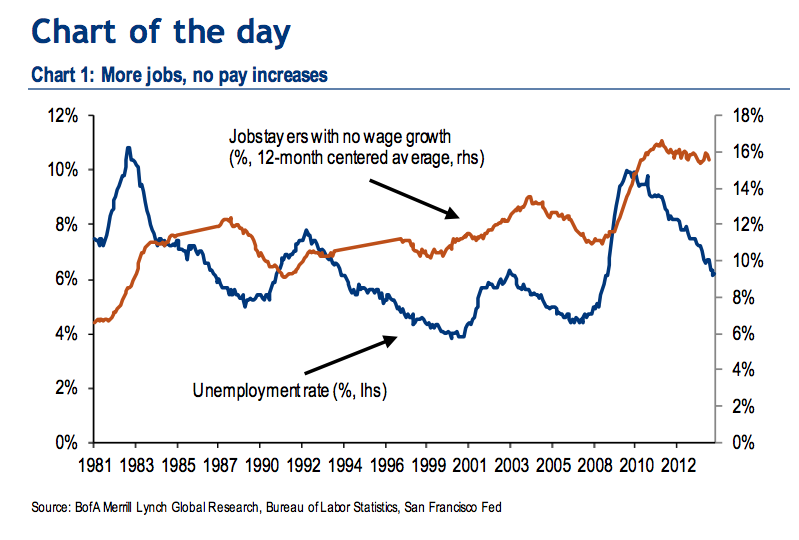 Josh here – no wage gains, no inflation – at least from where I sit.
Source:
A boost from construction
Bank of America Merrill Lynch – September 3rd 2014