The Equity and Quant Strategy group at Bank of America Merrill Lynch updates us on the latest data about active manager performance. Year-to-date, it's been very difficult for US stock pickers. When benchmarked against the Russell 1000 large cap index, a shockingly small number of funds are above the bogey…
Year to date, 25% of managers beat the
benchmark. Core managers did best, with
27% beating the benchmark. Value
manager had an 11% hit rate. 20% of
Growth managers beat the benchmark.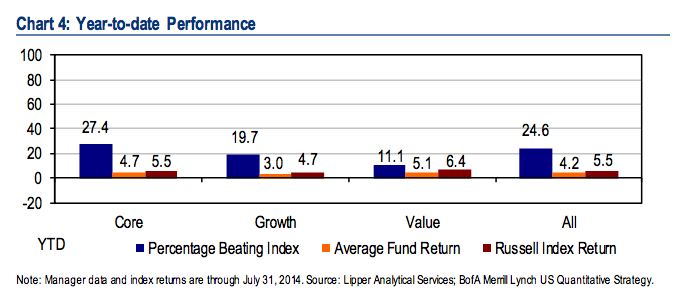 For some perspective, 37% of managers have been able to beat the market over the last 12 months, so 25% is a really bad showing.
Savita Subramanian & Co do note that July was a good period for active managers, however, as 53% of managers got above their benchmark for the month. Is this the start of something new or just an anomaly during a very tough year?
Source:
Active Managers Improved Results in July
Bank of America Merrill Lynch – August 8th 2014