Liquidity issues in the high yield bond market have made front page news today, as expected. I don't see the current pace of redemptions as something worth freaking out about, but awareness is probably a good idea as spreads widen and redemptions create a drying-up of demand for the $1.6 trillion asset class.
The Wall Street Journal's got an excellent chart illustrating the phenomenon:
Jim Swanson, chief investment strategist at MFS Investment Management, which oversees about $438 billion, said he has been demanding extra yield on some bonds to reflect the risk that selling could take longer, and avoiding some less-liquid bonds. "There's a question of what happens when everyone tries to sell [bonds] at once, and I want compensation for that," he said.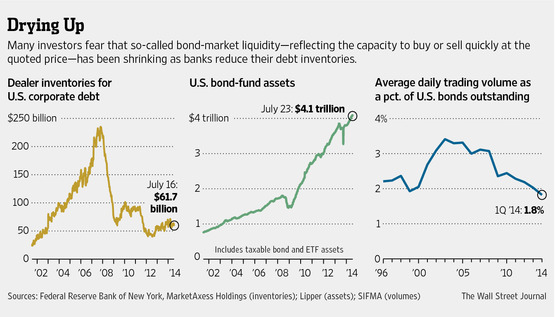 Source:
Junk-Debt Liquidity Concerns Bring Sales (WSJ)
Read Also:
The Rube Goldberg Machine (TRB)