via Nick Colas at ConvergEx:
Has the CBOE VIX Index bottomed for the year?  Even with all its computational and theoretical flaws, plenty of market participants hope that it has. Brokers would like to see if higher volatility might drive better volumes. Hedge funds around the world root for the opportunities that spicier market action should offer. Our monthly review of the Implied Volatilities (the "VIX of…") for everything from gold to small cap stocks to corporate bonds finds that expected volatility is churning both higher and lower through a range of sectors and asset classes. On the plus side, the VIX of the large cap tech sector is 20% higher than a month ago, even though returns here are similarly robust (+3.4%).  The bad news – fully 10 of the 19 sectors/asset classes we track saw lower Implied Volatility over the last month. So yes, the CBOE VIX Index is out of the cellar at 12.81, up from 10.85 a month ago.  But there is precious little follow through – yet – in the rest of the options market.
Below, Colas charts the one month percentage change in implied vol (IV) versus the past months returns for each of the major sectors and asset classes.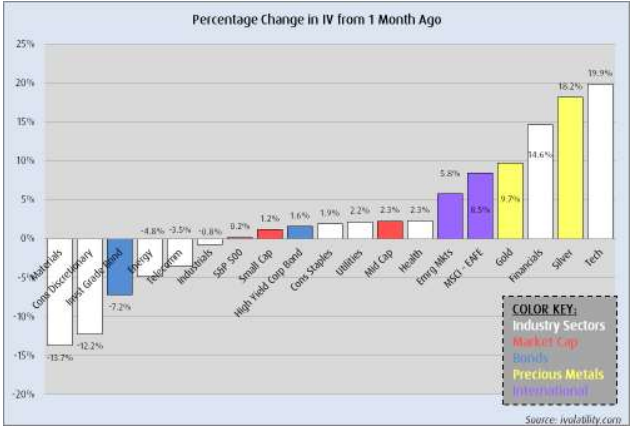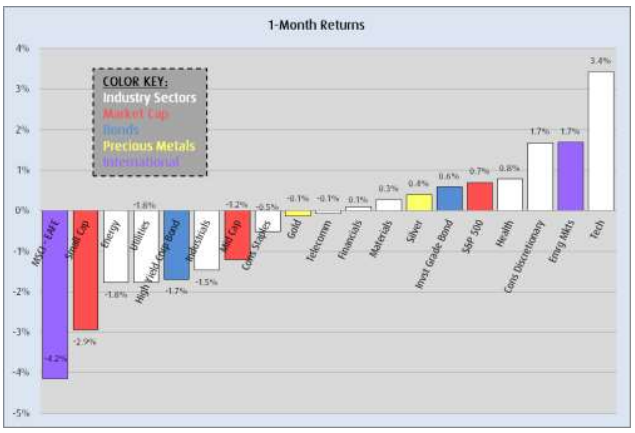 Source:
Nicholas Colas, chief market strategist at ConvergEx Group, a global brokerage company based in New York.