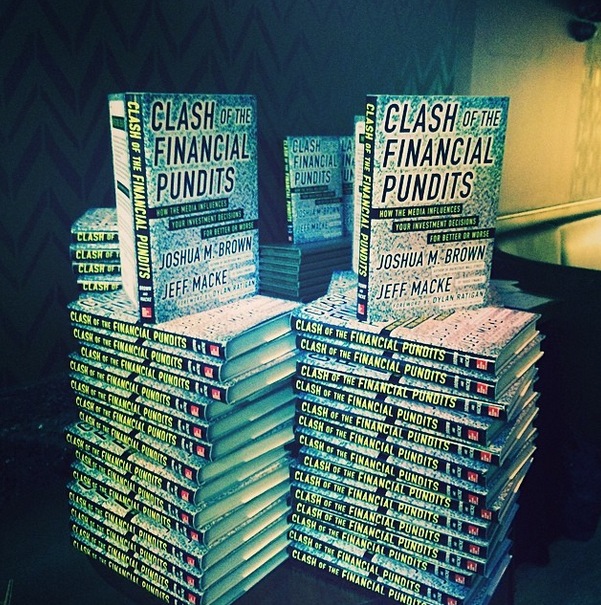 Two months ago my second book, Clash of the Financial Pundits, hit the shelves. Since then, my co-author Jeff Macke and I have signed a few hundred copies and have received a ton of feedback from readers and reviewers all over the country.
The idea behind the book was to show that even the so-called financial gurus and experts are only human and that the news and opinion cycles surrounding each piece of "breaking news" are as predictable as the tides. As Ecclesiastes 1:9 explains, "What has been will be again, what has been done will be done again; there is nothing new under the sun." In Clash, we demonstrate that there have always been pundits whose calls and comments have either affected the markets or investor behavior or both. We show how even the most intelligent, experienced market participants are not immune in the presence of this kind of influence. Our hope in writing 'Clash' was that the reader would come away a more savvy investor and better equipped to face the daily barrage that threatens his or her long-term success. 
And thankfully, you guys are buying the book and spreading the word. It's a very gratifying thing for Jeff and I, we truly appreciate it. The comments we've received so far have been incredible.
From all the feedback we've gotten, these are the eight aspects of the book that people seem to be most excited about:
1. Ben Stein gives a blisteringly honest interview to Jeff Macke and almost no one is spared. Stein is back in the news this week thanks to an extremely bizarre column he penned about hot girls he may or may not want to hook up with (I personally don't get what he's trying to say) and the controversy forced me to go back and read what he told us in Clash. My conclusion is that the septuagenerian Ben Stein simply doesn't give a f*** anymore.
2. The story of Henry Blodget's comeback as he goes from Public Enemy Number One and an absolute pariah to a New Media mogul and financial pundit with one hell of a platform – Business Insider has more monthly page views and unique users than the Wall Street Journal now. I keep getting comments and questions about this chapter of the book – mostly positive 😉
3. The chapter about Joe Granville (The Man Who Moved Markets chapter) was my favorite thing to research and write in the whole book and it seems to be a fave among the readers too. More than one of you have told me it should be made into an HBO movie or something – sounds great, call my agent. I don't have an agent. Call my mom, maybe.
4. The history lessons – I heard from a handful of people who had no idea that Jim Rogers was the first professional investor to become a full-time TV pundit – as one of the first hosts on FNN in the 1980's.  A lot of you hadn't really been familiar with Marty Zweig (The Biggest Market Call of All Time chapter). For a few people, the story of the South Seas Company – what I refer to as "the first media-blown bubble", was a helpful reminder that there's always a speculative mania and the press always fans the flames (whether intentionally or not). The opening chapter – about Babson's Break and the crash of '29 – shows just how powerful a pundit's influence can be.
5. Jeff Macke was exiled from TV in the wake of his televised meltdown on CNBC one night in the midst of the crisis. Jeff has never publicly explained what happened during that fateful appearance – until now. In his "Car People" chapter, Jeff bleeds all over the page, to the point our editor had to clean this chapter up with a mop. To me, it's worth the price of admission alone.
6. "They Don't Get Cramer!" is my full-throated defense and lionization of James J. Cramer, who invented the stock market blogosphere (TheStreet.com), inadvertently created the first financial Twitter (Columnist Conversation) and remains one of the most important investment writers of all time. I take you through his career from a fan's perspective, watching from the outside as Jim helped democratize investing and decode the secrets of the stock market for tens of millions of Americans.
7. Cramer on Cramer – one afternoon, Jeff and I sat with Jim for a couple of hours and basically turned the microphone over to the man himself. Jim reflects on his own career, the pitfalls of being a financial pundit and the almost impossible task of keeping everyone happy. I am telling you now that I think it's the most honest and introspective interview of Jim Cramer that's ever been published anywhere. This was an off-the-charts legit discussion, we're really grateful he gave us this much of himself for the book.
8. Two words: James Altucher
Anyway, there's lots more in the book – tricks the experts play to always seem right, the problem with investing "rules", some behavioral psychology stuff about how pundits influence their audience, a foreword by Dylan Ratigan, interviews with Karen Finerman and Herb Green and Barry Ritholtz etc, a chapter about how hedge funds use the media to their advantage and more! If you haven't gotten your copy yet, Amazon's selling the Kindle version for just $11.99 this weekend:
Clash of the Financial Pundits: How the Media Influences Your Investment Decisions for Better or Worse
Or get the hardcover edition here
!