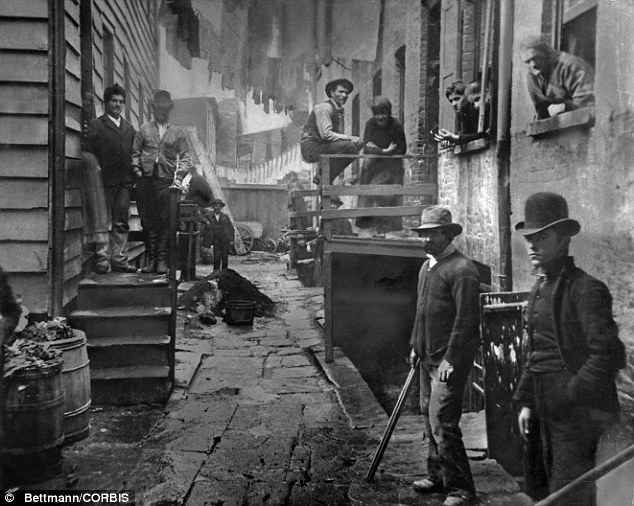 In nineteenth century New York City, one of the more popular ways for the lower-class criminal element to earn a living was emptying the pockets of the inebriated passersby.
The scam was so popular, it was given its own name: Rolling the drunks.
Essentially, the tavern or saloon owners would spot the most intoxicated patrons within their own establishment and point them out to a gang of street ruffians waiting just outside the premises. As the mark ambled off of his bar stool and out into the street, the gang – usually a mob of young men – would surround the man and "roll" him into an alley so they could remove any valuables he may have been carrying on his person. A crack over the head with a brickbat would be sure to keep to the victim quiet or incapacitated for a few hours whilst the thieves went inside to share the spoils with the barman. This scheme could be repeated daily and nightly, to the satisfaction of both the bar's proprietor and the pickpockets themselves.
Easy money.
Last night, New York's Attorney General leveled an incredibly harsh fraud charge at the global investment bank Barclays PLC. The gist of the AG's accusation is that Barclays built their internal dark pool into the largest such electronic trading venue in the world by promising its institutional brokerage customers that it was keeping them safe from the types of predators who were picking off their orders on other exchanges, via front-running and other nefarious machinations. Schneiderman's office says that, not only were these clients not protected within the Barclays trading environment, it actually turns out that Barclays itself was inviting the most notorious electronic pickpockets in the game through a backdoor to ply their wicked trade and rob the unsuspecting customers under cover of darkness.
In short, Barclays is being accused of rolling the drunks.
But it's even worse than that – if the complaint is true, they were also going out of their way to assure the drunks that the alley next to their establishment was being kept ruffian-free, when it fact, it was being stocked with thieves deliberately.
If true, this would be yet another bald-faced outrage bobbing atop a sea of frigid outrageousness that, by now, has us utterly numb.
From the New York State AG's website:
Barclays heavily promoted a service called Liquidity Profiling, which Barclays claimed was a "surveillance" system that tracked every trade in Barclays' dark pool in order to identify predatory traders, rate them based on the objective characteristics of their trading behavior, and hold them accountable for engaging in predatory practices.

Contrary to those promises, the complaint alleges that:

Barclays has never prohibited any trader from participating in its dark pool, regardless of how predatory its activity was determined to be;
Barclays did not regularly update the ratings of high-frequency trading firms monitored by Liquidity Profiling;
Barclays "overrode" certain Liquidity Profiling ratings – including for some of its own internal trading desks that engaged in high-frequency trading – by assigning safe ratings to traders that were otherwise determined to be toxic.

The complaint further alleges that, contrary to Barclays' representations that it protects clients from aggressive or predatory high-frequency trading in its dark pool, Barclays in fact operates its dark pool to favor high-frequency traders and has actively sought to attract them by giving them systematic advantages over others trading in the pool.
Unbelievable.
I'll be on NPR's On Point Radio program this morning at 10am ET to discuss the story as well as dark pool usage in general and what it means for America's investors. Scott Patterson, author of the excellent books Dark Pools and The Quants will be joining me. More information on how to catch the show below:
Private Stocks And 'Dark Pools' In American Finance (On Point)
Read Also: