You'll notice something highly obvious in the below chart – the ratio between CEO compensation and average employee compensation tends to spike during stock market booms – this is, of course, related to the fact that execs take stock and options while most worker pay is in the cash they actually need to, um, live.
But just because there's an explanation, that doesn't change the sheer extremity of the thing…
From an in-depth exploration of this topic at the Economic Policy Institute, here's the fascinating chart of this ratio: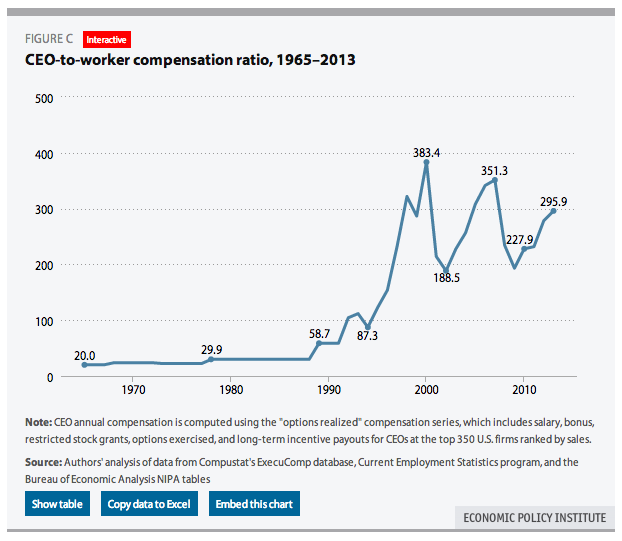 U.S. CEOs of major companies earned 20 times more than a typical worker in 1965; this ratio grew to 29.9-to-1 in 1978 and 58.7-to-1 by 1989 and then surged in the 1990s to hit 383.4-to-1 by the end of the 1990s recovery in 2000. The fall in the stock market after 2000 reduced CEO stock-related pay (e.g., options) and caused CEO compensation to tumble until 2002 and 2003. CEO compensation recovered to a level of 351.3 times worker pay by 2007, almost back to its 2000 level. The financial crisis in 2008 and accompanying stock market decline reduced CEO compensation after 2007–2008, as discussed above, and the CEO-to-worker compensation ratio fell in tandem. By 2013, the stock market had recouped all of the value it lost following the financial crisis. Similarly, CEO compensation has grown from its 2009 low, and the CEO-to-worker compensation ratio in 2013 had recovered to 295.9-to-1. Though the CEO-to-worker compensation ratio remains below its peak values achieved earlier in the 2000s, it is far higher than what prevailed through the 1960s, 1970s, 1980s, and 1990s. If Facebook were included in our sample, the CEO-to-worker compensation ratio in 2013 would have been 510.7-to-1.
I'm not arguing whether it's "wrong" or "right", but I will take a stand and say it's not good for the economy. There's nothing wrong with people having the ability to make as much as they want, if only it didn't have to take place so narrowly at the highest strata.
Source:
CEO Pay Continues to Rise as Typical Workers Are Paid Less (Economic Policy Institute)