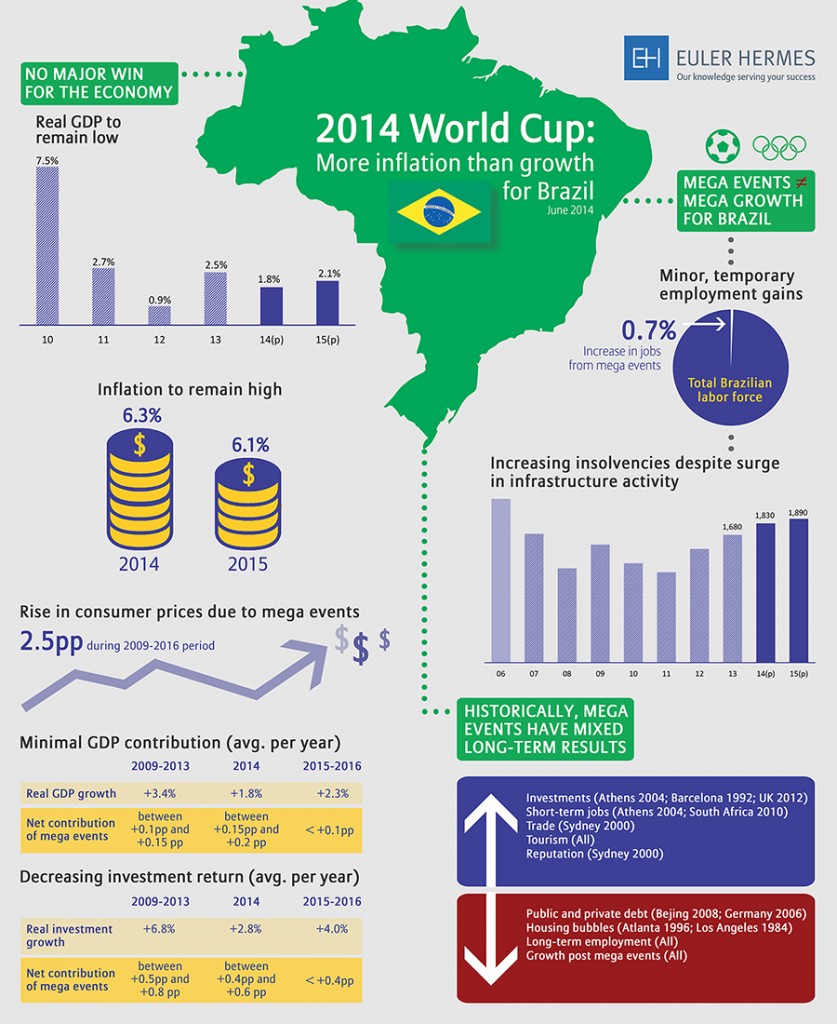 1. Minor impact on GDP and investment growth
Total infrastructure investment for the World Cup could reach BRL26billion (0.5 percent of GDP) between 2009 and 2014, while spending for the Olympic Games should amount to around BRL12billion (0.2 percent of GDP) between 2010-2016. These are small amounts relative to the country's economy. From 2009-2013, Euler Hermes estimates the investments have only added 0.5pp-0.8pp on average per year to real investment growth, and 0.1pp-0.15pp per year to real GDP growth. The impact is expected to decline gradually after 2014.
2. No long-lasting impact on employment
Authorities hope that the World Cup will generate about 700,000 jobs through 2014. With a Brazilian labor force estimated at over 100 million, the impact will be small, especially in the long run. Many new construction sector jobs will disappear once investment projects are concluded; tourism employment will be predominantly short-term and low-skilled.
3. Insolvencies to increase despite the mega events
Corporate insolvencies have been rising since 2011 as a consequence of the sharper-than-expected economic slowdown. This trend is predicted to continue due to weakening domestic demand, a tightening of monetary policy and rising bank interest rates. Euler Hermes expects that corporate insolvencies will increase by 9 percent in 2014 and 3 percent in 2015, despite the surge in infrastructure activity.
Source:
Euler Hermes