Every day, US investors trade hundreds of millions of dollars into and out of ETFs of foreign stocks without even stopping to think about how they actually work. This includes many professionals, by the way – I've had some hilarious conversations with financial advisors who have billions in client money at risk in products they themselves barely understand. 
In 2013, for example, US investors invested a net $17 billion into two Japanese stock ETFs, DXJ (from WisdomTree) and EWJ (from iShares). How did that money get invested instantaneously, given that Japan is sleeping while American investors are trading and vice versa? According to ICI, international equity ETFs currently hold some $400 billion in assets, or 24% of the industry – and yet ignorance of how they operate remains shockingly high. 
My friend Brendan Ahern of KraneShares has been working with me for almost four years now, helping us with our international stock exposures and portfolio holdings. Brendan's got a new white paper out that explains this process along with an illumination of many commonly held misconceptions and fallacies surrounding ETF structure and mechanics. I hope you find this helpful and enlightening! – Josh
***
ETFs, like traditional mutual funds, can create or redeem shares on a daily basis. In traditional mutual funds, the mutual fund company facilitates the creation and redemption of shares. In an ETF, Authorized Participants are brokerage firms that create and redeem ETF shares by delivering or receiving the ETF's underlying basket of securities. Every night ETF providers send out a portfolio composition file that is akin to a recipe of how to build or dismantle an ETF. In the case of a purchase, when a buyer's share amount exceeds the shares available in the market, Authorized Participants will buy the underlying securities that comprise the ETF and deliver those shares to the ETF provider. In return the AP receives ETF shares that are passed along to the buyer. The graph below shows how the process works.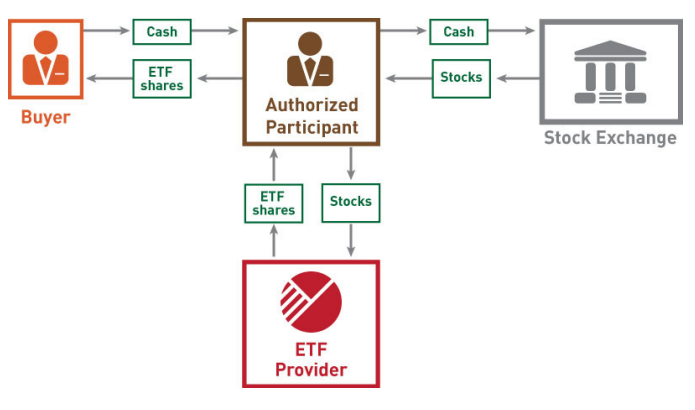 International ETFs differ in that the underlying securities' markets tend to be closed during US trading hours. In order to facilitate buying and selling in international ETFs, APsoften hold an inventory of ETF shares. By owning shares of the ETF, the AP will hedge the exposure through a variety instruments such as futures, shorting the underlying basket of stocks or other similar ETFs.
In circumstances when the AP lacks ETF shares in inventory, the price buyers are quoted from an AP is based on where they believe the securities can be purchased the next day the markets are open. The price quoted is based on a number of reference points and factors such as:
• The underlying securities' currency movement
versus the US dollar during US trading hours.
• Market news that may affect the underlying
stocks' market.
• US stock or sector movement that may affect
the ETF's underlying securities.
• ADRs are certificates issued by US banks used
to facilitate trading of foreign securities on US
exchanges. The movement of ADRs can provide
a potential indicator where the underlying
securities and market will open the next day.
• Stamp taxes and exchange fees are also
incorporated into the bid-ask spread. For
instance the Hong Kong has a stamp tax
of 0.2% per security transaction. APs are
responsible for paying the stamp tax which
they will include in the price quoted.
While the operations of US-listed international ETFs are similar to domestic ETFs, there are unique elements to the creation/redemption process. The role of an AP involves both art and science in the creation and redemption process of international ETFs.
***
Source:
The Roach Motel, ETF trading fallacies and best practices (KraneShares)