Not every stock market correction predicts or ends with a recession or a major economic downturn. Sometimes we correct just for the hell of it. This is the emotional component of the market that has more to do with the fear of conditions getting materially worse than actual conditions getting materially worse.
My friend Ben Carlson has a great post about how stocks behave before and during economic recessions live at his site A Wealth of Common Sense. In addition, he shows us the below table of the thirteen times stocks corrected (during the post WWII period) and there was no economic correction immediately following. In other words, in these instances stock investors had anticipated a downturn that simply didn't happen…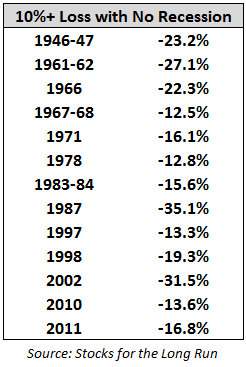 This data shows that the market falls an average of 20% every five years without the economy ever going into a recession.  Stocks can be forward looking, but who knows what investors are actually pricing in at any given point in time.
The next time markets begin falling for this reason or that, keep in mind that they are just as likely to be reacting to the threat of recession than recessionary conditions themselves.
Source:
Do We Need a Recession for a Meaningful Correction in Stocks? (A Wealth of Common Sense)