My favorite anecdotal indicators for economic trends never come from the business pages, always from pop culture and the mainstream.
Check out this piece in the New York Times Weddings / Celebration section this weekend:
True, the recession forced many couples to downsize their weddings, and economize on glammy cakes. And afterward, some affluent couples were hesitant to flaunt big weddings and show-off cakes. Then that cutesy cupcake-wedding craze came along. Not to mention the dessert-tables-without-the-wedding-cake thing.

But now, even in Brooklyn, the super-casual center of the universe of culinary cool, wedding cakes are resurgent. "Almost all our brides are customizing cakes," said Cheryl Kleinman, a wedding go-to and the owner of Cheryl Kleinman Cakes, a thriving bakery on Atlantic Avenue in Brooklyn. "It's looking way better than three years ago."

Ron Ben-Israel Cakes, in Manhattan, just sent a five-foot-tall masterpiece (for 550 people) in a refrigerator truck to Palm Beach, Fla. "There is a return to big," Mr. Ben-Israel said. "Being generous. Inviting a lot of people."
I talked a bit more about this vibe over the winter in Bubble Guppies.
And you just know this bad boy below is going to a finance guy.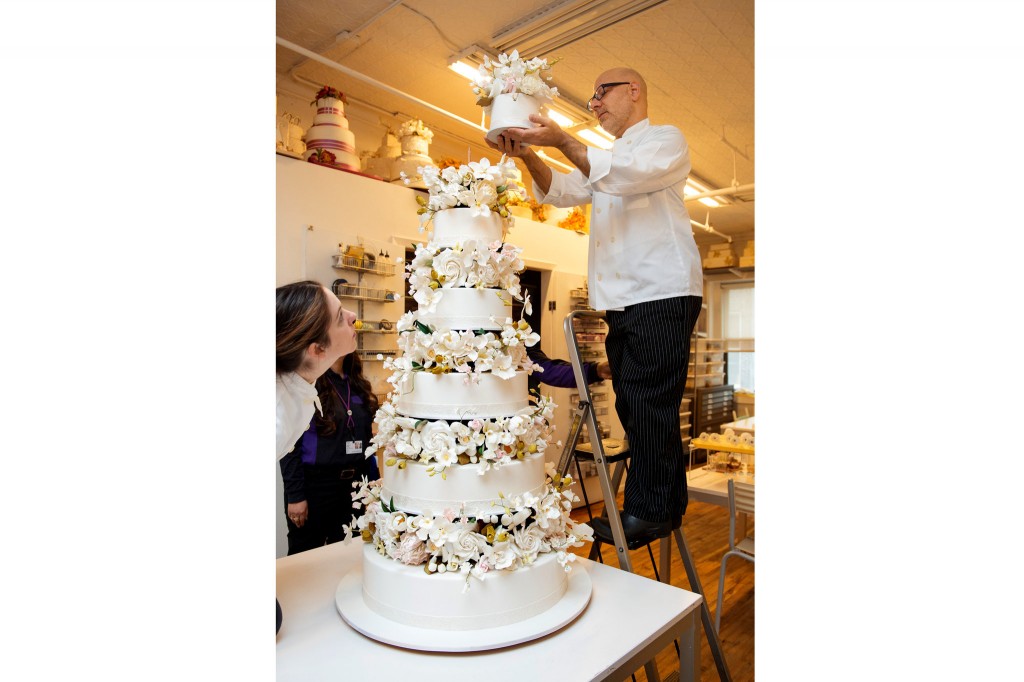 Techies aren't usually quite this ostentatious about their weddings, it's too easy for them to be savaged by their peers on the web like Sean Parker was. Finance people, on the other hand, have almost no interaction with the general public or the Internet, so a six-tier cake carried in on a litter like Cleopatra would be par for the course in the mature phase of a bull market.
And now let's turn our attention to an even more monstrous manifestation of QE making its way into the "real" economy. The hedge-fund-and-Sino/Russo-tycoon-driven Art Bubble.
This one is truly special. Below, the Financial Times details a spectacular night at the Christies headquarters in Rockefeller Plaza three weeks ago:
The sale started in high gear. Lot eight – a lucky number in China – was "Poisson Volant", a mobile by Alexander Calder swinging lazily above the room. Christie's Hong Kong-based Asian business development director Xin Li, bidding on behalf of Asian clients, beat out Gagosian to pay $25.9m – almost twice the estimate – after a dogged battle.

The records piled up: a word painting by Christopher Wool at $23.7m, a Barnett Newman at $84m: as the sale progressed, even seasoned dealers were stunned. "Holy moly," whispered dealer and collector Adam Lindemann to his neighbour as a Warhol White Marilyn zipped to $41m; by the end, the sale had totalled almost $745m – the highest-grossing ever.
Kaboom.
Art is the ultimate anti-commodity. There's only one of everything and if you want it, the price can be based on nothing but your own desire to have it versus the next most covetous maniac – there are no replacement values to be factored in. Another market that functions this way would be the sports franchise biz – there's only two NBA teams in LA and one of them is not for sale, Mr. Ballmer. How much would you pay for the other one?
That's what's going on now. It's been going on for a little while now, the difference is that there's almost no shame attached to it anymore. Giant weddings, huge and utterly uneconomical vanity purchases – we're back, baby.
Sources:
Extravagant Wedding Cakes Rise Again  (New York Times)