Some good news on the employment front from Gallup…
PRINCETON, NJ — Gallup's U.S. Job Creation Index reached a new high in its more than six-year trend, registering +27 in May. The prior high had been +26 in the initial monthly measurement of January 2008, just as the recession was taking hold. The index is based on employee reports of hiring activity at their places of employment.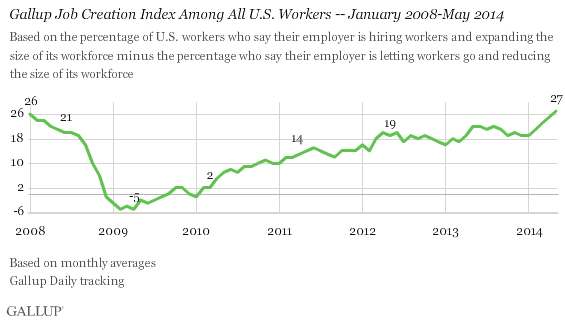 The +27 index score for May is based on 40% of employees saying their employer is hiring workers and expanding the size of its workforce and 13% saying their employer is letting workers go and reducing the size of its workforce. Another 41% report no change in staffing.
Anecdotally I would confirm it, at least as far as NYC goes (which I realize is its own planet sometimes).
Source:
U.S. Job Creation Index Hits New High (Gallup)