The other day we did a contest centered around the below graphic, in which readers of Business Insider who could name the most people won a signed copy of our new book, Clash of the Financial Pundits
.
Below is a complete listing of everyone who appears in the book, in no particular order:
Jeff Macke
Henry Blodget
Warren Buffett
James Altucher
Ben Stein
Jim Cramer
Karen Finerman
Ralph Acampora
Isaac Newton
Herb Greenberg
Guy Adami
Jim Rogers
Cliff Asness
John Bogle
Erin Burnett
Maria Bartiromo
Ben Bernanke
Abby Joseph Cohen
Art Cashin
Harry Dent
Martin Zweig
Joe Granville
Jim O'Neil
David Faber
Marc Faber
Irving Fisher
Pete Najarian
Bill Griffeth
Mike Holland
Carl Icahn
Barry Ritholtz
Josh Brown
Doug Kass
Larry Kudlow
Melissa Lee
Charlie Munger
J Pierpont Morgan
Hank Paulson
Becky Quick
Dylan Ratigan
Louis Rukeyser
Richard Russell
Michael Santoli
George Soros
Liz Ann Sonders
Robert Shiller
Martha Stewart
Jon Stewart
Scott Wapner
Byron Wein
Ned Davis
Larry Wachtel
Daniel Defoe
Roger Babson
Bob Doll
Alan Greenspan
Janet Yellen
Morgan Housel
The finalists are getting their books this week. In the meantime, below is a list of everyone who appears in 'Clash', most of whom made the graphic.
A legend for the graphic, created by the artist @darth, is below: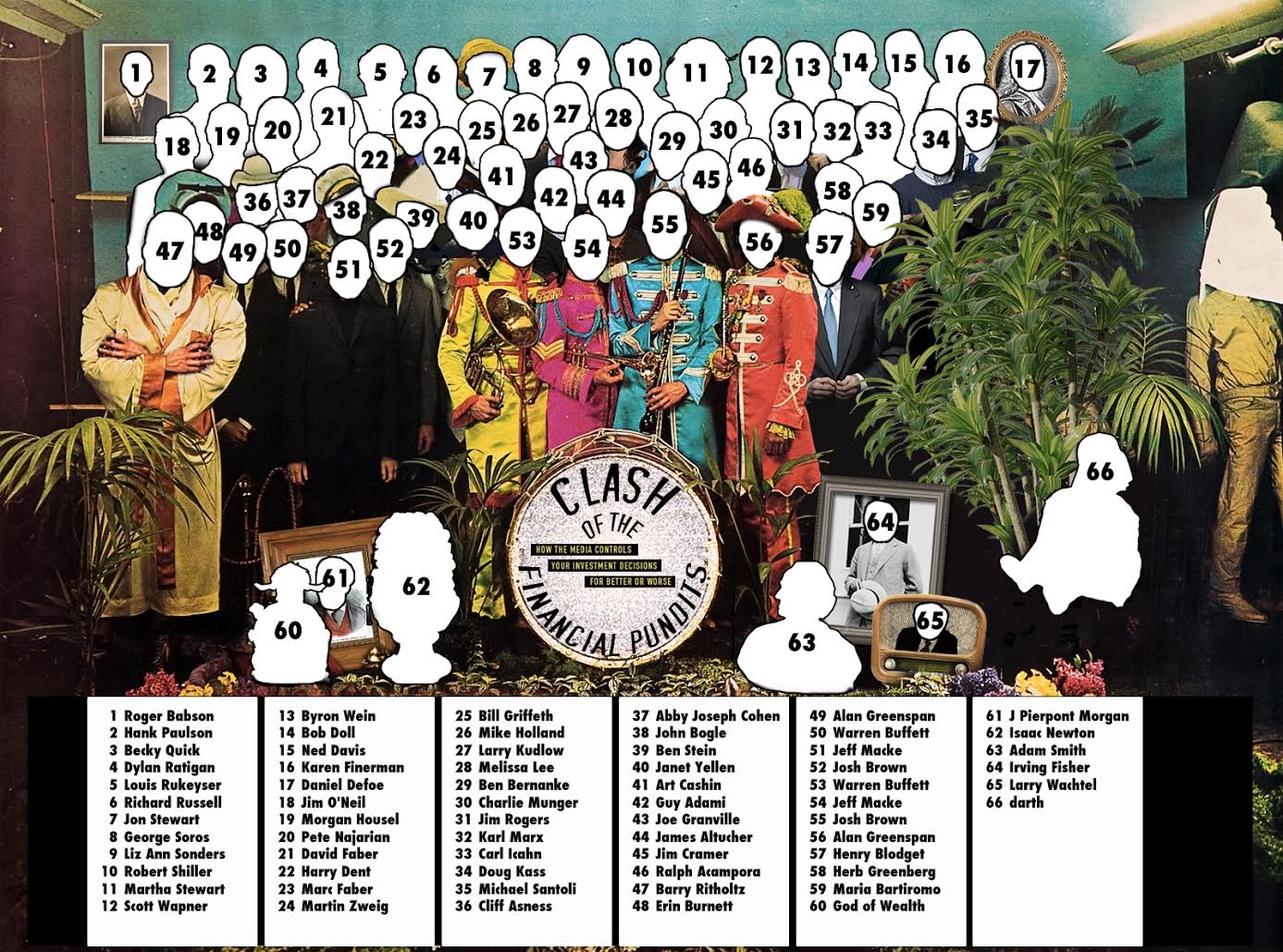 Get the book already!
Clash of the Financial Pundits: How the Media Influences Your Investment Decisions for Better or Worse