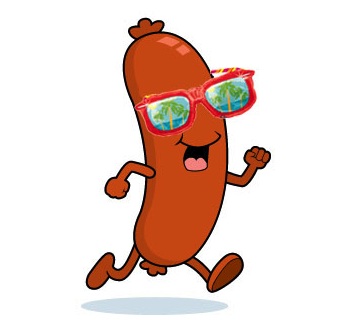 It's good to be back in New York after four fun-filled nights at the Waldorf Astoria's new resort in Disney Orlando, Florida. I was very excited to be getting away from Wall Street-related stuff after ODing on all winter-long, and so it was hilarious to set foot in the hotel only to see that there was a Bull & Bear Steakhouse (just like the one we have on Lex) right in the lobby! We skipped eating there, for my sake.
We took the kids to Magic Kingdom and EPCOT (which I believe stands for Everyone Picks Churros Over Tofu) for the first time ever and they really loved it. It's hard to be a cynic in Disney World, no matter how much you know about the corporate-sponsored kidnappings and targeted assassinations the brand has carried out since the 60's.
I rarely make any recommendations here, but I do want to mention the tour guide company we hired for the Magic Kingdom.
Thanks to our guide from World Class VIP Tours, we were able to zip through the park, bypassing sixty minute lines everywhere (the whole country is off from school this week!). By doing things in an orderly way, we ended up seeing everything the place has to offer and getting on just about every ride. If you have small children and you can do this, you definitely should. I know my kids and they definitely would not have made it through the whole day waiting in the sun for every attraction. We were really lucky to have had everything set up for us before we got there and planned out by theme park pros – check out World Class VIP Tours if you're heading down and email me if you want the name of the young lady we had, the children absolutely loved her.
Okay, end of commercial 😉
Below, me and the babies sitting on the Main Street curb, awaiting the Electrical Parade after eleven hours straight of Disneying…
That look in my eye is a combination of PTSD and the earliest symptom of an impending sugar coma; I think they put carbs in the oxygen there. Also, there are no insects in the entire park, I have no idea how that's possible in Central Florida – if you have the answer to this mystery, hit me. Lastly, the animatronic Johnny Depp in the Pirates of the Caribbean ride – super-creepy, he pops up like four times in ten minutes. The single best ride was GM's Test Track, until the end where they march you through a Chevrolet Dealership instead of a gift shop. WTF is that about?
Anyway, I managed to stay off the Internet for the most part, other than to check some work emails here and there. It was helpful that the beginning of the week was Passover and the end was Good Friday and Easter stuff.
The funny thing is – and I debated saying this out loud this afternoon, but whatever – once I got a chance to look at the usual finance and market sites upon my arrival in New York, I was taken aback by how repetitive most of the content was. It's a lot of people just saying the same things over and over again. I was out of the loop for almost a full week and able to catch up in thirty minutes on whatever "news" I might have missed. The vast majority of popular links I saw that people had been sharing this week were ridiculously boring and unimportant.
I'm sure I've been guilty here and there of posting something that either:
a) had already been done to death
b) was so obvious that it didn't need to be said
c) was inconclusive or advertised the answer to a question I had no ability to answer
d) was uninteresting or so inconsequential that you were amazed I had the time or the energy to even think about it
But!
Despite all the formulaic market articles and content-for-the-sake-of-content, I did come want to spotlight some of the really great stuff I didn't get a chance to link to – thank god for the financial web's Curator-in-Chief Tadas Viskanta and Abnormal Returns for never letting anything good slip through the cracks…
Is super-VC Fred Wilson about to retire? Let's ask him.  (BusinessInsider)
"Nine years ago, Randy Kurtz made an extraordinary bet on himself, the stock market and his ability to pick a few winners."  (NYT)
Is India about to elect its Reagan?  (HinduTimes)
Does inflation make you poorer? Noah Smith investigates!  (Noahpinion)
Carl Richards on the Robo Advisor thing.  (Morningstar)
James Osborne: The term "always" should be permanently exiled from your investing vocabulary.  (Basson)
Investors: Your handy guide to what matter and what doesn't matter. Save this post for the next time you start prioritizing the wrong shit.  (AWealthOfCommonSense)
Also by Ben Carlson: My Time on the Sell-Side  (WealthOfCommonSense)
That one time when Robert Rubin put a gun to President Clinton's head to modernize* financial regulation, leading directly to the credit crisis a few years later.  (Guardian)
Here's why you should try to read Thomas Piketty's new best-seller 'Capital in the Twenty-First Century
' this summer.  (NYT)
Is Dante's "The Divine Comedy" the best self-help ever written?  (WSJ)
*modernizing, in the context of regulation, means taking the laws that protected the country from a major banking crisis for seventy years and pushing them through a woodchipper to get hired by Citigroup after. 
All told, it's good to be back. I missed the grind, even if it does mean wading through more and more superfluous financial content to find gems like the above.