Below is the Tesla Motors (TSLA) daily chart going back to the beginning of the year.
You'll see a prominent price and volume spike on the very day Morgan Stanley's analysts told us of their electric battery-driven Utopian vision for the future…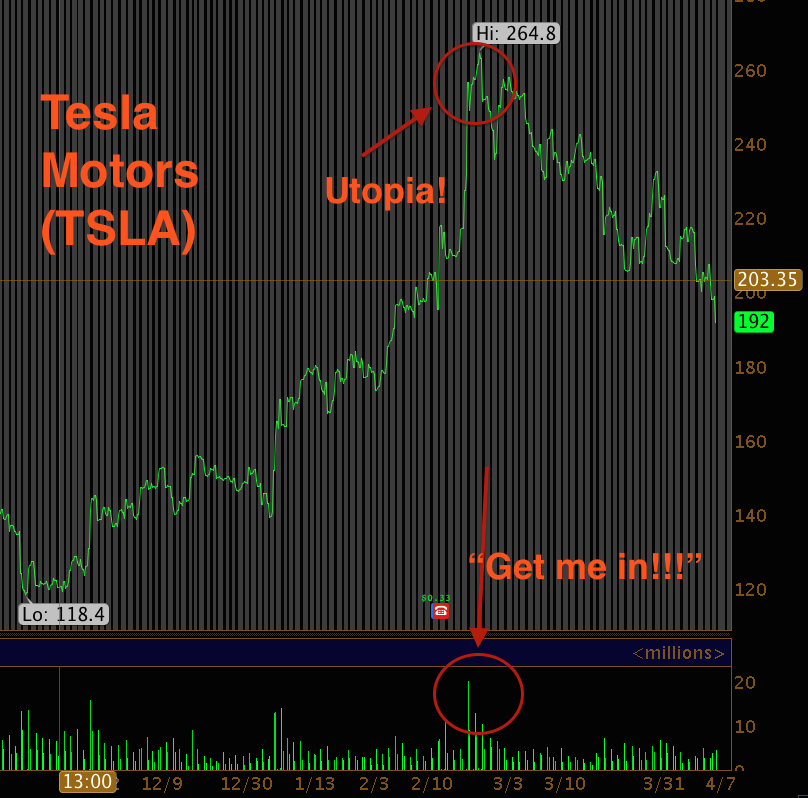 For those keeping score, the Tesla Utopian Society call occurred about 30 percent ago.
Now here's the rub – Morgan Stanley may end up being dead right about the implications for vastly improved battery efficiency and availability driving a new era and economic engine for the US – they may even be right about Tesla being at the center of it given their early lead. It's still very early going for the Utopia prediction to have been proven true or false. Morgan Stanley is looking out to 2026!
And while the idea is fascinating, investing based on this kind of thing is portfolio poison.
Because eventually, valuation matters. And once it does, wishes and hopes and wild-eyed optimism about the future begin to get discounted really quickly.
Try to avoid investing with your heart. Or at least use small position sizing or a stop loss – just in case there are bumps in the road on the way to Utopia.
Read Also:
MORGAN STANLEY: Utopia Is Coming By 2026 (Business Insider)