…real traders see real swings.
Historically speaking, a portfolio comprised of all US stocks is the surest way to build wealth. Unfortunately, this portfolio carries with it the highest volatility imaginable and is almost impossible for most people to maintain. There have been zero rolling 20-year periods between 1926 and 2013 during which stocks have had a negative return. This period includes both World Wars, Vietnam and Korea, multiple conflicts in the Middle East, the lost aught's decade between dot com and credit busts, the stagflation seventies, the crash of '29 and the Great Depression.
Through all of that, US equities have produced positive returns during 100 percent of all rolling 20-year periods – starting at any month and any year you'd like – for the last ninety years or so.
But who can really tolerate the volatility of a 100 percent stocks portfolio with no mitigating diversification over the course of two decades? Not many people. Nor do they need to, quite frankly.
An allocation of 100% US stocks can only safely be administered in a situation where:
a: The investor is planning to be marooned on a desert island or in a coma for a minimum of 20 years.
b: The investor has some sort of Benjamin Button-style disease where they get actually younger as they age and their tolerance for risk actually grows with time rather than diminishes.
c: The investor is clinically diagnosed as having masochistic tendencies and actually enjoys the sweet pain of unrealized losses and roller coaster-esque drawdowns.
d: The investor is so fabulously wealthy across so many other asset classes – real estate, precious gems, fine art, Ken Griffey Jr. rookie cards, etc – that whatever happens with their stock portfolio is almost more interesting for cocktail hour conversation than it is for the future liabilities of retirement income.
Because most of us do not fit into either of the above four categories, a portfolio allocation consisting of 100 percent US stocks is often inadvisable. But imagine if we could tolerate the madness of booms and busts, fire and ice, without losing our heads at exactly the wrong moment…
Below (via BlackRock) is what happened to a fully invested $100,000 portfolio over the last 20 years. A full helping of stocks would have been excellent, but O, the Drama it would have entailed:
(Click to Embiggen!)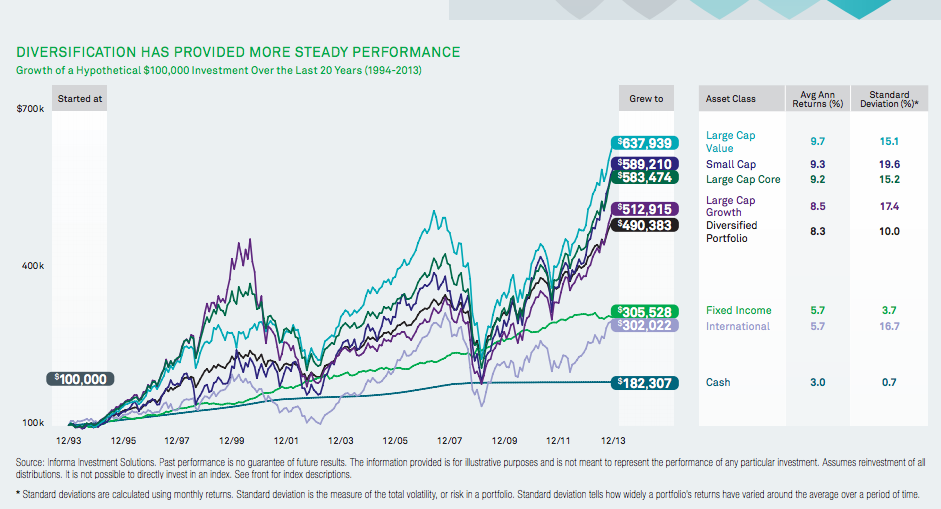 Based on the methodology employed by BlackRock above, the diversified portfolio – which included foreign stocks, bonds and some cash – would have offered slightly less upside on an average annual basis (8.3% vs something closer to 9% with all classes of US stocks) but it would have done so with less than 50 percent of the volatility (standard deviation).
Most investors would accept this tradeoff when faced with actual data. The difficulty comes in at market extremes – after a 30 percent gain for US stocks, people wonder "why own anything but US stocks ever again?" and after a 30 percent drubbing, they ask "why am I going through this at all?"
Staying the course during huge rallies and vicious corrections is always easier said than done. Having the evidence in front of us as to why we should do so will perhaps make it more palatable.