One of the obvious effects of endless zero-percent interest rates and QE has been the chase for yield. This has allowed a great many borrowers to tap the credit markets and it has encouraged a a new boom of covenant-light lending (meaning lesser protections for hungry creditors) as well as a jump in junk bond issuance.
Two charts from Bank of America Merrill Lynch's High Yield Strategy group illustrate the phenomenon: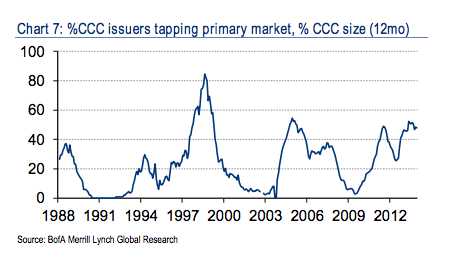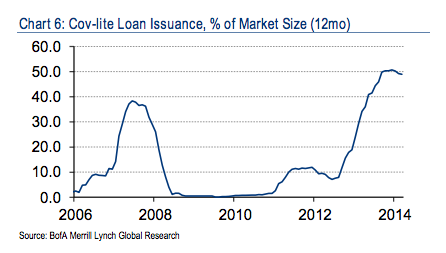 The team explains how treacherous the Fed's exit path truly is, as it wouldn't take much to trigger a wave of defaults – the exact thing the Fed is looking to prevent by moving toward tighter policy to head off potential bubbles. Could be the horses have already bolted the barn:
The final blow
What worries us is not so much the deterioration of lending standards as much as the Fed's response to what it perceives as problems within the financial system. The worst thing the Fed can do, in our opinion, is raise rates prematurely. We would much rather see, dare we say it, financial regulation before Fed hikes. By raising rates in response to fears of loose covenants and aggressive issuer behavior, the Fed risks creating unsustainable interest loads for high yield companies. Without a significant increase in EBITDA, the record high coverage ratios the market currently enjoys can decrease very rapidly when rates go up. Consider that with no change in debt level and EBITDA, if interest costs increased by 200bp, interest coverage of the US high yield universe would fall by nearly a full turn, below pre-crisis levels. By trying to avoid bubbles, the Fed could fan the flames of default, putting pressure on exactly the event they aim to avoid.
Has the Fed stayed too loose for too long? Can it exit without throwing the ugly end of the bond market into turmoil? What does the fixed income portion of your portfolio look like right now? Have you been an unwitting participant in the yield chase?
Now might be a good time to look more closely at your exposures.
Source:
The Good, the Bad, and the Ugly of lending standards
Bank of America Merrill Lynch – April 7th 2014