The first quarter of this year has definitely frustrated just about everyone. The sectors that large cap mutual fund managers were overweight (like Consumer Disc) were the big under-performers while the sectors no one wanted anything to do with (Utilities, anyone?) absolutely kicked ass.
Merrill's Equity and Quant Strategy team tells that less than a third of large cap managers were able to beat the Russell 1000 benchmark in the first three months of the year. It was particularly bad for the value managers, 88% of whom missed the mark.
Over the last three months, 29% of managers beat the benchmark. Core managers did best with 31% beating the benchmark. Value manager had a 12% hit rate. 14% of Growth managers beat the benchmark.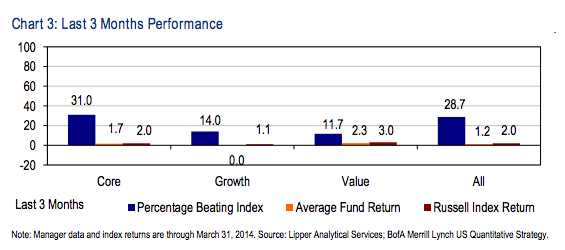 That's okay – you'll get 'em next time, champ!
Source:
Growth/Value reversal caught style managers off guard
Bank of America Merrill Lynch – April 9th 2014