The major glaring similarity between the S&P 500 today and at its last major peak in late 2007 is that, at both moments in time, the PE multiple is 15.2. Not that this necessarily means anything, there've been plenty of other instances throughout history where we've had a market trading at or above that level without a crash being the inevitable result – but it's noteworthy because of the symmetry, I suppose.
But the major differences between today and 2007 are much more interesting to me. Buried in the most recent JPMorgan Asset Management quarterly slide deck was this group of graphs, that I though told a very interesting story: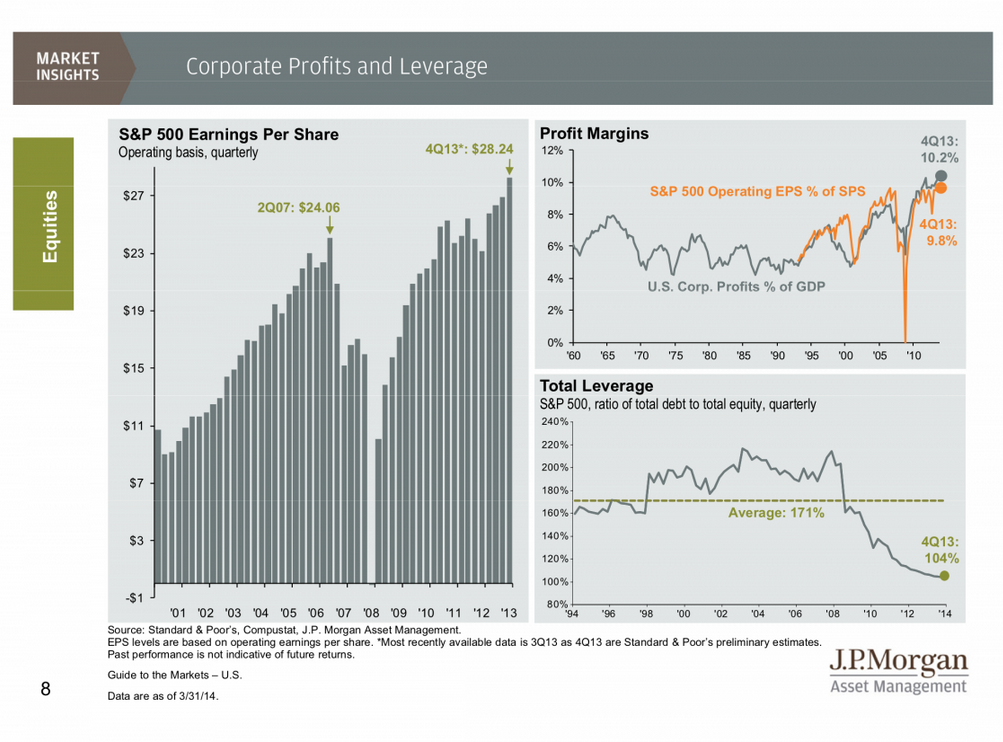 In the left pane we see that operating earnings are higher than what they were at the last peak – this demolishes claims that the entire stock market recovery is "because of the Fed." The recovery is because Fed created conditions in which companies could ramp back up to normalized operating conditions, financing, hiring, innovating, etc.
In the top right pane, you're looking at the upward trend in profit margins that began in the mid-eighties and has persisted to this day. Profit margins have been generally trending higher (with high lows during recessions and a vicious snapback from the '09 crash) owing to a variety of factors – most importantly the fact that S&P 500 companies are doing more than half of their business overseas where profits can be higher. In addition, technology represents more than a fifth of the index, and it should not require explanation that selling software and monetizing intellectual property under patent protection is a higher margin business than turning wood into paper or iron and steel into railroad cars. The information technology revolution has given us a different, less labor and cost-intensive economy then we used to have, hence the persistence of higher margins.
Finally, in the bottom right pane you're looking at total leverage of America's large companies – as expressed by debt to total equity. The credit bubble of the mid-aughts led to all sorts of reckless behavior and the inevitable reckoning when it all came crashing down. Today we see exactly the opposite, the deleveraging cycle is moderating and credit is just now beginning to expand meaningfully. To me, this is the very starkest difference between 2007 and today – corporate cash as a percentage of total assets is now at 30%, in late 2007 it was 20% and everyone was borrowing.
For the entire slide presentation, hit the link below:
JPMorgan's Awesome Presentation On Everything Happening In The Markets Right Now (Business Insider)