Everyone's risk tolerance changes with the environment they're in. Ask someone how they feel about risk after the market's just run up and they'll say "don't worry about it, I'm cool – let's put some money to work."
Ask the same guy, no matter how experienced or savvy he is, one month later after a sell-off and you're likely to hear something slightly less enthusiastic about stocks in general.
At my asset management shop, we try to determine investor risk tolerance in a quantifiable way at the outset – as opposed to just randomly, meaninglessly asking someone if they're "aggressive" or "conservative" and recording their qualitative, personal feelings at that moment in time.
Then the hard part begins: keeping otherwise reasonable, rational people from reckless self-sabotage while the casino floor beckons.
The typical mindset of most investors – myself included – looks something like this: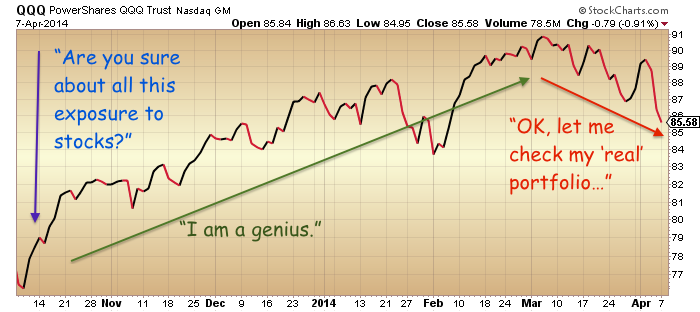 Ask an advisor what that feels like to deal with these types of behavioral investing issues professionally, they'd describe their market-oriented conversations with clients thusly:
Nasdaq Composite monthly returns:
September 2013: + 4.83%
"Why don't we own more Facebook and LinkedIn? Why are my returns so boring? Is there more we should be doing?"
October 2013: + 4.96%
"I think I'm ready to take on more risk now. I'm comfortable with higher exposure to equities."
November 2013: + 3.55%
"Why are we bothering owning any bonds at all?"
December 2013: + 2.92%
"I think I'm gonna to start trading more, picking some names I like for a play account. Most of the ideas I've had on my own recently turned out to be huge winners, I'm really good at this and I feel like I'm missing out."
January 2014: – 1.92%
"Oooooh. That was unexpected. Maybe this isn't such a good idea…"
February 2014: + 5.15%
"Just kidding! I'm still killin' it!"
March 2014: – 2.73%
"Ummmm….good thing I still have my 'safe' portfolio."
April 2014: – 1.48% month-to-date
"Oh shit."
***
The great part about this is that it's so predictable. Knowing exactly what's going to happen to people's psychology enables the advisor to warn them about it beforehand. That way, when the sirens start singing (and they will), there's at least some wariness on the part of the investor rather than instant surrender.
Remember – if investing or trading feels good, it's probably being done wrong.