The major bull thesis for 2014 amongst stock investors is centered around the potential for a capital expenditure comeback.
Capex has been severely restrained since the recovery began and corporate management has displayed a lopsided preference for return of capital in the form of dividends, buybacks and other forms of financial engineering. It's clearly worked – but as rates rise (if rates rise), the funding for this kind of activity will become more constrained. Further upside, therefore, will probably need to come from the revenue line as opposed to further gains in profit margins or market multiples.
David Rosenberg at Gluskin Sheff has been calling for a Capex boom lately and he makes an important point about its likelihood (ROSENBERG: This Chart Represents The Strongest Case For A CapEx Comeback).
Below, an update from her latest report for Bank of America Merrill Lynch Equity and Quant Strategy group:
…more optimistic on capex
While management remains cautious on earnings, they are more positive on capex. The 3-month capex guidance ratio was unchanged in March at 1.8, indicating management is guiding above consensus on planned capex nearly two times as much as below. This is above average, and suggests companies may be more willing to deploy excess cash on capital investments this year.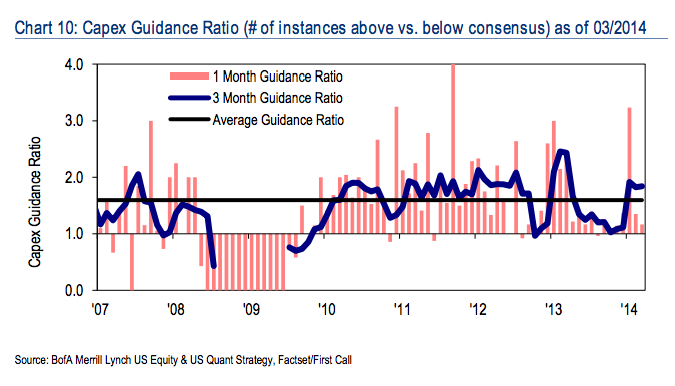 Josh here – Talk is cheap. Would be great to see this kind of thing manifest itself in real life.
Source:
Improving sales & capex trends suggest forthcoming growth
Bank of America Merrill Lynch – April 2nd, 2014