Last year it was US stocks and anything else could GTFO. In December, I rhetorically asked whether investors would take all of the wrong lessons away from 2013 and go on to make the same mistake they always make in the presence of a hot asset class…
Investors are now preparing for the coming Battle of 2014 by exaggerating the posture and behavior that's worked for 2013. This is called the Recency Effect – believing the environment we've just been in is somehow a permanent one, extrapolating the just-was to construct an outlook for the soon-to-be.

They do it every year.

Many will throw away the portfolio playbook that didn't give them the best of all possible results this year.Diversification is broken. They'll move their chips into position solely on black, after all the roulette wheel just landed on black the last ten times – it's practically a can't-lose proposition.

At this time of year I'm more interested in whatever hasn't worked.
Now, of course, I say "rhetorically" with a twinkle in my eye, I knew full-well that they definitely were taking the wrong lessons away and acting on them. The outflows from emerging markets to start this year were the only proof I'd needed – more money was yanked away from EM stock funds in the first five weeks of 2014 than during all of 2013!
But a funny thing happens once this process of hindsight investment gets underway – trends can reverse quickly and violently, smacking those of us who endlessly extrapolate them right upside the head.
My friends Justin and Paul at Bespoke Investment Group have picked up on an interesting new counter-trend, something that's sure to delight contrarians, mean reversionists and the globally-oriented investor should it persist.
Too soon to tell if it will, but worth considering:
The below matrix perfectly illustrates the nature of the change in fortunes for global equity markets since the Fed meeting: US equities slightly down, foreign markets up, and US rates markets rallying in the long end…In global markets, every major country ETF we track outperformed the US this past week, led higher by Brazil, China and India as EM markets have come roaring back.  Commodities have also outperformed, with the exception of precious metals.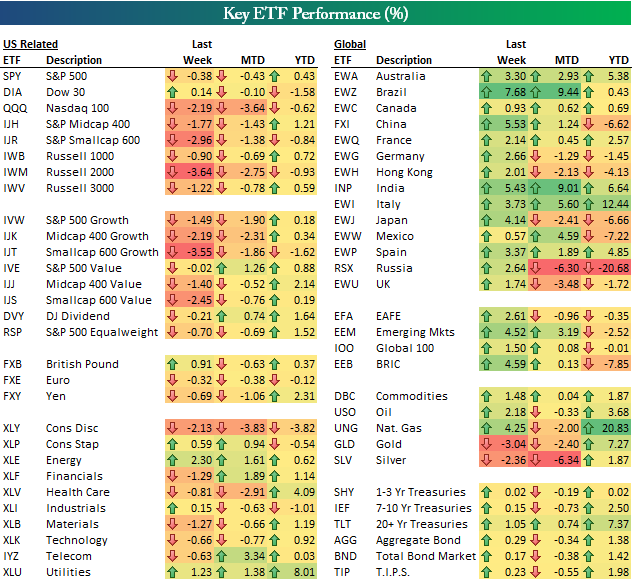 If this is the start of something new, investors who've been chasing US stocks higher for the last two years to the exclusion of nearly everything else are going to have to find a new playbook.
Source:
ETF Performance Matrix: Post Fed, Rotation Out Of US (Bespoke Investment Group)
Read Also:
"Why Bother?" Will investors take the wrong lessons from 2013? (TRB)