I would say it's too soon to tell whether or not last Friday's breakdown for the biotech index will be meaningful or not.
Bears will note that the IBB (biotech index ETF) probably topped in late February but the market hasn't "accepted" it yet. They'll point to declining momentum indicators like Rate Of Change and Relative Strength. Bulls will point to several instances where breakdowns were merely headfakes on the way to higher highs, particularly the twin false moves of last fall.
See my fairly simple chart below – you're looking at the daily candles for IBB along with overlays of the two aforementioned momentum studies…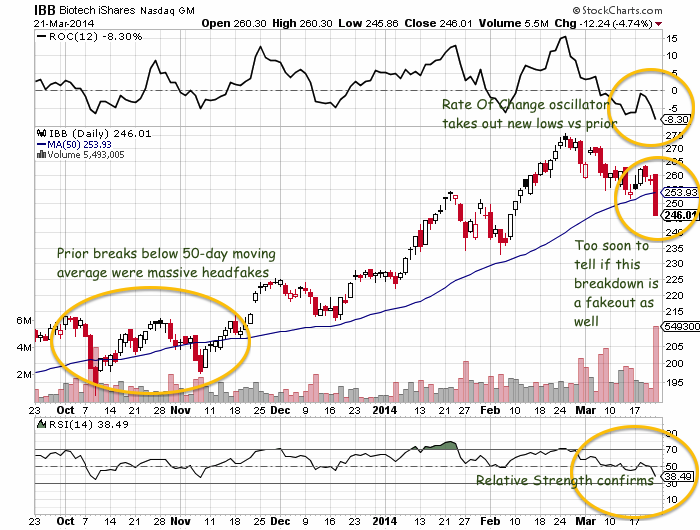 I believe that this is important because the strength in biotech stocks serves as a mood ring of sorts for the overall risk appetite of the stock market. Biotechs have grown to be about 20% of the S&P health care sector, 15% of the Nasdaq Composite. They're leading the markets this year and are on the tip of every aggressive investor's tongue.
Whether or not you're in biotech stocks directly, it's probably a good idea to have a sense of what they're doing.
Last night I explained why I think the biotech stocks are in the midst of a classic bubble. Read it here:
Yes, Biotech is a Bubble. SFW. (TRB)