The Federal Reserve is in the process of removing emergency stimulus after having raced headlong into reflating the economy six years ago and keeping its foot on the gas despite all the criticism. We don't know if the exit will be successful in the end, but so far so good.
Europe is a different story. As the global financial crisis took hold, the clueless ECB was idiotically raising rates and government policy was way more focused on austerity than recovery. These shenanigans went on until Mario Draghi took the reins of Europe's central bank, told the politicians, politely, to go f*** themselves, and drove his institution to become more Fed-like in both its words and deeds. European stocks began to recover last year but still have a long way to go relative to their US counterparts. In the meantime, the ECB is likely to stay easier for longer than the US Fed and stimulus may even be an option in the future should economies remain stagnant.
In other words, the Euro recovery cycle may be in much earlier innings than ours. This is reflected in their much cheaper stock market. BlackRock's Dodd Kittsley took a look at the disparity:
Eurozone stock valuations are attractive relative to U.S. stocks. As previously mentioned, we think Eurozone equities are inexpensive right now. If you look at the price to book ratio of the Eurozone versus the U.S. compared to the long term average, you can see there is much value to be had overseas.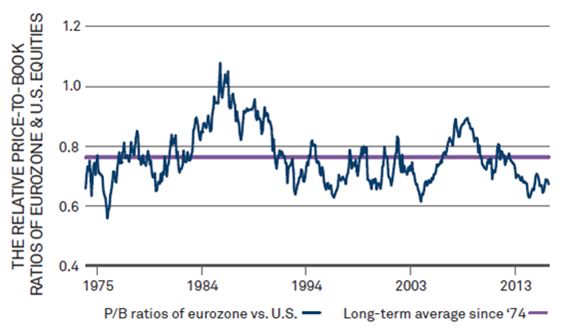 Visit iShares for the full post at the link below.