Savita Subramanian's latest note offers "A PM's Guide to Stockpicking", in which the Equity and Quant Strategy team at BAML lays out the best and worst performing stocks by style factor since the start of the year. As we've discussed here a bunch, the worm has turned and high growth, high beta, cyclical names are crushing their value counterparts YTD. The dividends-and-buybacks cohort is soooo 2012-2013.
As the markets reversed course last month, recovering January's losses and reaching new highs, Momentum/Technical factors (+6.9%) were the top performing group. The five best-performing factors last month were all Momentum/Technical factors, with returns ranging from 7.4% to 8.5%. Year-to-date, Momentum/Technical factors advanced 5.0%, 1.5ppt ahead of Growth, the second best preforming factor group year-to-date.
Josh here – this is the type of action you see as a bull market reaches the acceptance phase. PMs are tiptoeing away from the bond-like stocks they started with and dancing with the hottest chicks in the club. This augurs well for companies with dividend growth as opposed to absolute high dividend yield. It favors pro-growth sectors that benefit from increased capex and an acceleration of the economic cycle (techs, industrials).
Here's the year-to-date scoreboard of S&P 500 returns by factor: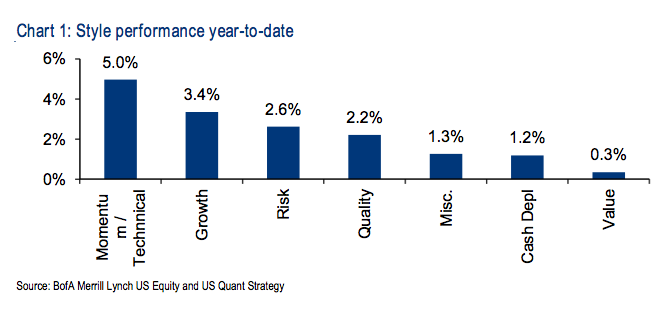 The question of whether or not this should matter to you will have a lot to do with your own goals and timeframe. For professionals up against pure equity benchmarks, this stuff matters a great deal.
Source:
A PM's guide to stock picking
bank of America Merrill Lynch – March 17th 2014