via Savita Subramanian of Bank of America Merrill Lynch's Equity and Quant Strategy group, here's why now is the time for CapEx expansion to (finally) get underway.
We've been waiting for the capex boom
Despite strong cash flows, low leverage and cheap financing costs, companies have sustained low levels of capital expenditure that have persisted since the financial crisis. Corporations have been tight-fisted with capital for reasons that include  political uncertainty, lack of visibility on demand, global recession fears and the wounds from 2008's liquidity crisis still healing. Those who have unleashed the coffers—either by choice or under pressure from activists—have spent chiefly on share buybacks. Corporate spending has been the missing link in this economic recovery, but we think the time is ripe for a resurgence in capex.

10 reasons for a capex pick-up: 

1) Accelerating global growth
2) Pick-up in global manufacturing
3) Our economists and stock analysts are
bullish on capex
4) The IMF forecasts a new investment
cycle
5) Less brinksmanship in Washington DC
6) Tight capacity utilization
7) Age of capital equipment
8) Even maintenance capex is well below
average
9) Lending standards have eased
10) The market has spoken: NO MORE
BUYBACKS
Regarding item 10, NO MORE BUYBACKS, this comes from a survey of global portfolio managers. As you can see in the chart below, repairing balance sheets and returning cash are now out of style. Getting aggressive is what managers want to see – it's why they'll pay up for a stock these days.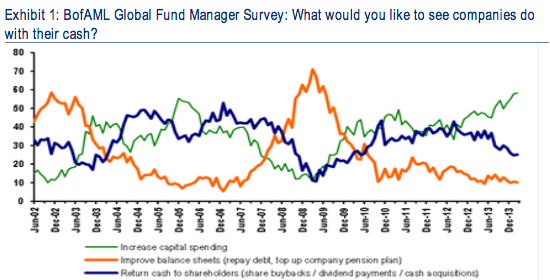 US CapEx is a huge number, about $2 trillion spent a year. BAML believes the best opportunities to play should spending start to get going would be tech, industrials and energy.
Source:
The cap-x factor
Bank of America Merrill Lynch – March 11th, 2014