Yesterday I referenced the global breakout we're seeing on Halftime Report and a few people asked what I meant. I was referencing the MSCI All Country World Index being above the May 2008 highs for the first time in six years. Just an FYI, the ACWI is made up of 44 countries, 23 of which are emerging, but is heavily weighted toward developed markets in line with their dominant market capitalization. It addresses 85% of the world's investable universe.
Here's Stephen Suttmeier, chief technician at Bank of America Merrill Lynch, on the global breakout underway for the MSCI All Country World Index. Suttmeier overlays the ACWI advance-decline line (breadth) above the ACWI's price chart in the pane below. If we're making new highs, we would want to see new highs in the advancers vs the decliners happen concurrently, for obvious reasons. Taking out new highs with declining participation has historically been one of the great tells of a market top.
That's not what we're seeing today.
A new high for the ACWI A-D line is bullish for the ACWI
The technical trend and breadth remain bullish for the MSCI ACWI Index with a new
high for the ACWI advance-decline (A-D) line (2431 stocks) yesterday. This
supports the case for further upside in the ACWI beyond the January/December
highs of 407.95-408.55 toward projected channel and chart resistance near 420-430
(the channel top rises toward 440 into June). Key supports are 400-380.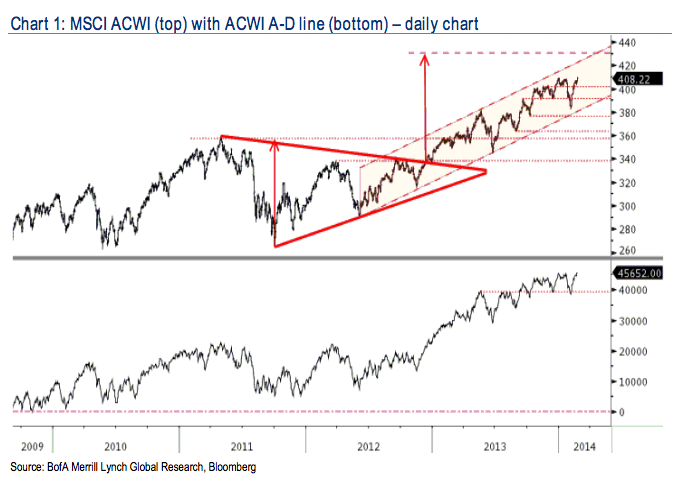 Source:
New Highs for MSCI ACWI A-D Line
BofA Merrill Lynch – February 25th, 2014