The huge news from last night is that Facebook has just agreed to buy WhatsApp, a four-year-old text messaging company with 450 million users and 55 employees, for $19 billion. That's not a typo, nineteen billion dollars. Text messaging.
Kevin Systrom may have sold out his Instagram too early, he only got a billion dollars and that was less than two years ago. The Tumblr guy only got $1.1 billion from Yahoo.
WhatsApp has been adding users at a furious pace, one million per day is the number floating around, but it only charges them $1.99 per year and not until after the first year. There are no ads supporting the service either. Evercore Partners downgraded Facebook this morning to neutral from buy and cut their price target to 60 – they are "uncomfortable" with the new trend in user engagement acquisition costs. In English, they see this price tag as desperation.
Anyway, here are some mindblowing stats to consider…
How big is $19 billion for a deal? Here's how it compares to some recent M&A from the Wall Street Journal: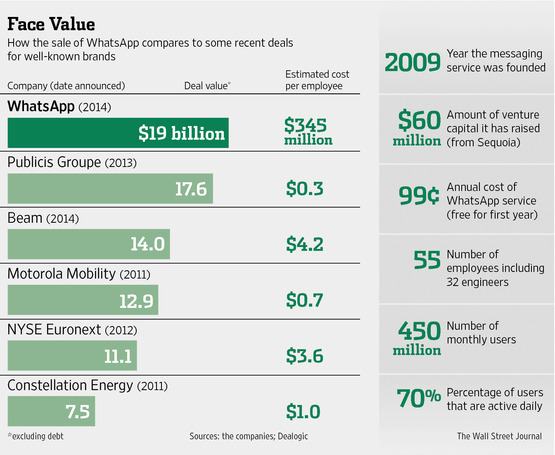 The largest ever venture-backed takeovers (until this one) via WSJ's VC Dispatch: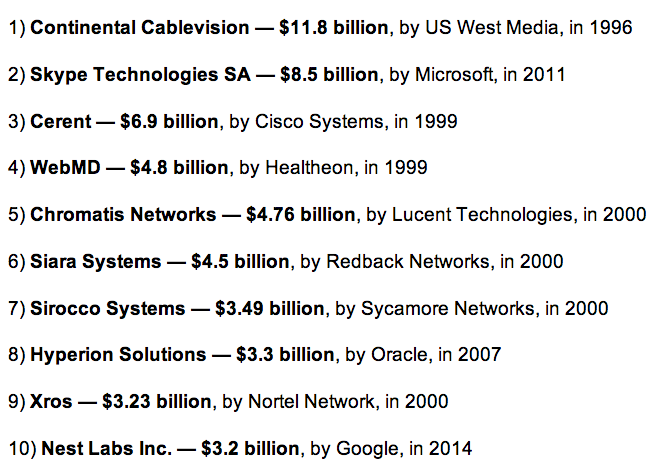 And finally, TechCrunch gives us some hilarious context to consider: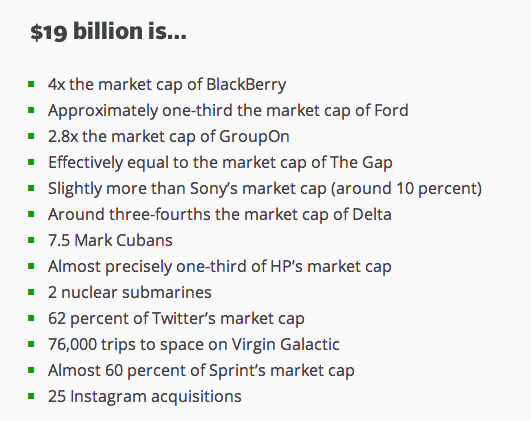 I've heard this deal characterized as defensive. I've heard it characterized as offensive as well. Some people think this will be the moment we look back at and say Facebook got desperate for user engagement growth. Some say it's genius and yet another perfect maneuver by the Boy King.
I don't know what to think.