Tesla is adding another few billion dollars to its market cap this morning on news it will sell 35,000 cars this year. Ford, meanwhile, sold 45,000 F-150s in January. Tesla's $30 billion enterprise value implies their having the entire electric car business to themselves forever. Okay sure.
In the meanwhile, Facebook announced a deal to buy WhatsApp for $19 billion. They're getting 450 million users – whose single defining, unifying factor as a "network" is that they went out of their way to avoid paying wireless carriers for text messaging.
This got me thinking about the Nasdaq in general and the amounts we're willing to pay up for growth stocks. It makes perfect sense that we've arrived at this point again – in a world of stagnant global growth, companies that can grow become the most highly sought-after. Money managers will pay anything for the true, pure growth stocks simply because there are not that many of them. Hope it continues forever (but I already know it won't).
The thing is, the economy is improving and the national mood is lifting. Confidence is returning with labor markets beginning to tighten (unemployment rate for college grads approaching 3%) and rising wages – for the first time in forever – are probably imminent. These facts don't justify most of the hyperbolic moves in the large Nasdaq growth stocks – but they serve as the backdrop against which they are taking place.
Here's the Nasdaq Composite going back to 1986, for a frame of reference: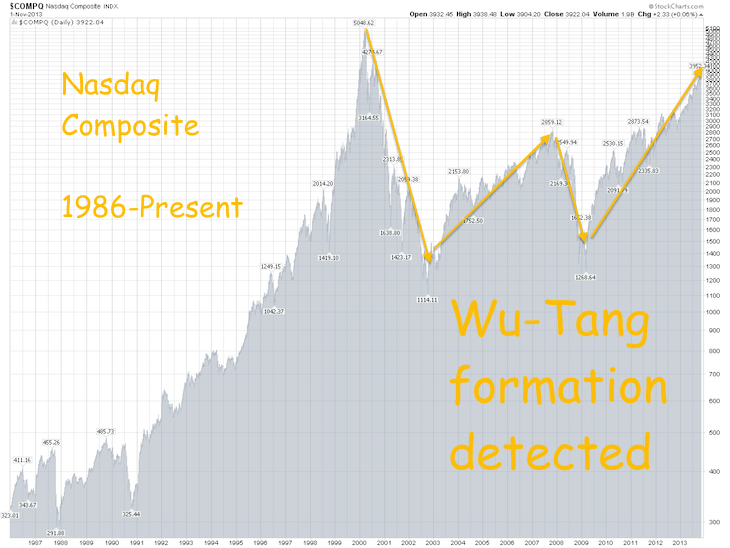 Party on.
Read Also:
Mindblowing Stats about Facebook's Buyout of WhatsApp (TRB) 
Real Consumer Confidence Returns (TRB)