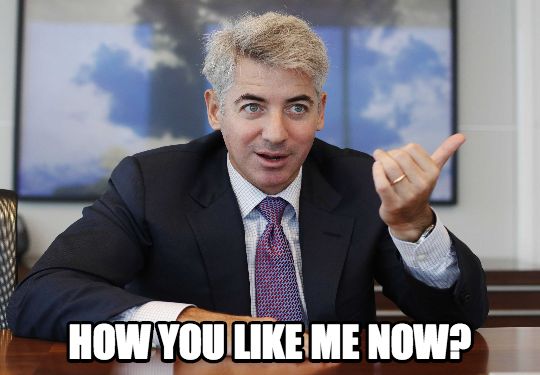 Look who's making his comeback, a bit behind schedule but nevertheless, right on time.
This week William Ackman, manager of the $12 billion hedge fund Pershing Square, did a Q&A at a charity benefit event and spoke freely about his portfolio rather than blaze through his customary deck of a few hundred slides. He's got all sorts of winners and interesting positions that do not rhyme with 'shmerbalife'.
Speaking of which, it's the one-year anniversary of the day he rolled out that fateful short thesis on Herbalife – a combination due diligence exposition and public shaming of both the company and its common stock. He revealed a billion-dollar short position and then announced his intention to destroy the company and hand over the proceeds to charity. It's the kind of thing you just don't do. Even the rest of the activist hedge fund ego-maniacs were like "Did he just seriously f***ing do that?"
You already know what's gone down between then and now – the skyrocketing stock price going against him, the hyper-public feud with Carl Icahn (mostly one-sided, coming from Carl), the airing of grievances and personal affronts by his industry peers (remember this?), the media obsession, the concurrent disaster with his JC Penney investment, and so much more.
And yet, despite all of the negative attention being focused on Ackman, he seems to have come through just fine. I predicted this would be the case and "called the bottom" in shares of Ackman, if only he were a stock one could have purchased, he'd have been a value manager's dream. Here's what I said in August 2013, in the wake of his decamping from the JC Penney morass and raising capital with the sale of its shares:
The piling on re: Bill Ackman – I would bet – has now reached its pinnacle. If he was a stock, and I a deep value investor, I'd be buying him in size here. Okay, maybe I'd be buying calls instead of common, but still – the beleaguered Ackman is probably a bargain here…

I believe Ackman to be a very smart investor and, more than that, a determined businessman…

If Ackman is now ready to play offense with his $12 billion Pershing Square fund, now that all of his enemies are out of the shadows and their positions illuminated, we should probably start to expect the unexpected.
And this is precisely what we've seen occur.
Ackman restructured his position in HLF, according to reports, using long-dated options rather than the all-common stock initial short. This may have cooled the short squeeze off and it certainly bought his fund some breathing room as it pursued other positions, like activist stakes in Proctor & Gamble as well as Air Products. In the meantime, for all the talk of Bill Ackman being "cooked" or "done", Pershing Square finished 2013 with a 10% gain – only about a third of what the S&P 500 returned, but still, nothing like the death sentence that had been buzzed about for most of the year.
And what's more, he's gotten off to a rocking start in 2014, having "won" the month of January as Nathan Vardi put it at Forbes. Thanks to a 25% tumble in shares of Herbalife after talk about government investigations, along with the out-of-nowhere Japanese acquisition of Jim Beam for $13.6 billion, Pershing Square put up a gain of 3.8%, crushing his competitors and the stock market itself, which actually fell 3.6% in January. In the meantime, his sale of JC Penney – which originally smacked of desperation – is looking better and better by the day. Pershing Square blew out of JCP in a single block trade at close to 13 bucks a share. These days its trading under six.
Meanwhile, the Herbalife saga is far from over. This morning, the New York Post is reporting that Pershing Square has actually stepped up its bet against Herbalife and is thrilled to see the company taking on debt – "Now it's a levered pyramid scheme."
As gleefully hostile and downright nasty as the business press can be when a former Golden Boy is felled, what the chattering classes of finance really love is a comeback story. And this month, they're getting a great one.
Read Also:
A Year Later, Ackman Sticks With His Bet Against Herbalife (DealBook)
How Bill Ackman Won January (Fortune)