John Cassidy at the New Yorker asks us which internet stock's valuation is the piggiest of them all?
Unfortunately, the answer cannot be determined by sheer accounting metrics. This is because investors tend to value web and tech stocks based on TAM (or Total Addressable Market) with the idea that once a company dominates its space, the amount of money it can start to make is unlimited. That's essentially what happened with Google and Amazon. If you were concerning yourself with either of their price/book multiples in the early going, then you missed the point (and the profits) entirely.
Not that every piggy web stock becomes Google… In fact, most won't but investors seem to have no problem with that risk – and so, in this context, a web stock's valuation is basically a handicapping of whether or not the company can own its TAM, like Netflix or Facebook do.
Anyway, here's John's chart: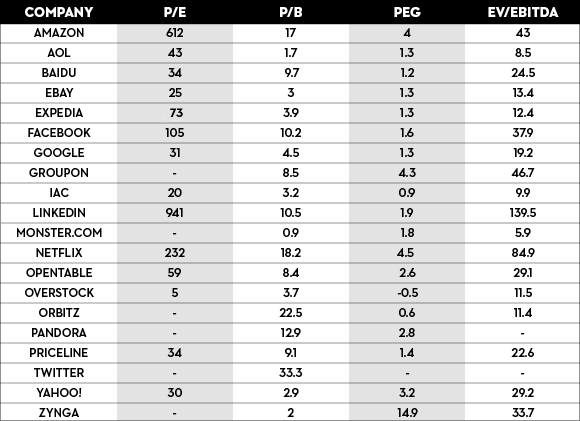 Head over to read John's piece, it's fantastic.
Source: