The Nikkei is now down 14% from it's late-December high after an amazing year in 2013. This year's drubbing has prompted some to say that the Japanese long-equities trade is "over". And it could well be, but I'm not so sure.
I'd argue that, if anything, the corporate earnings coming out of Japan have actually been consistently better-than-expected so far this quarter. In addition, the economic data is also still improving. The bulk of the stock market losses in Japan this past month can be safely attributed to the strengthening yen – when there is tumult in Asia, the yen is the safe-haven buy on everyone's list. The yen so far this year, for a frame of reference, is up a gigantic 3.2% through the end of last week. No one should be surprised that this, combined with profit taking and an overall shift to risk-averse behavior around the world, has led to a correction.
The reason we know that currency is the primary driver of Japanese equity weakness now is that the large caps – which are more sensitive to changes in the yen owing to their heavier exposure to export business – have fared worse than the more domestically-focused Japanese small caps so far in 2014.
It should also be noted that last summer, from the end of May through the middle of June, the Nikkei dropped by 23% and people were losing their minds over it. We were told the Japanese revival was finished then as well. Oops. The Nikkei then zoomed straight to a six-year high from those summer lows.
In the meantime, Abe is willing to print if the situation gets much worse.
Let's look at the technicals here and take the looooooooong view on the Nikkei's historic collapse and rally. Jon Krinsky at MKM Partners isn't so sure the Japan trade is over either. He points to this classic breakout and then retest of the long-term trend in the chart below:
Finally, looking at the long-term chart of NKY going back to the 1989 all-time high, we can see that it broker out above that resistance trendine in 2013, and is now "checking back" to it. At the same time, weekly RSI, while not fully oversold, is testing its uptrend support line off the 2008 lows. These both suggest at least a short-term bounce is likely from current levels.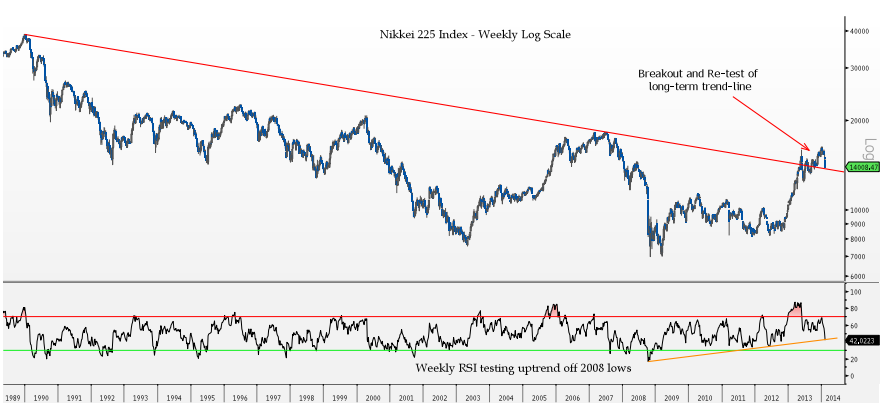 Josh here – Ten years ago Japanese stocks traded at a price-to-book value of 2X and now they trade closer to 1X. The "truth" about where they should trade is probably somewhere in the middle. Could take awhile, may not happen at all, who knows?