January sucked for stocks and, so far, February hasn't been much better. Okay, we get it. I'll be watching closely to see which of my colleagues in the Punditocracy get themselves all bear-ed up over the recent price action.
In the meantime, my friend Jeff Kleintop, chief strategist at LPL Financial, notes that there was nothing inherently strange about the way January progressed relative to the entirety of the post-crash period. A third of all months since early 2009 have been down-months for the S&P, he notes, and on average, they've shown declines of about what we lost in January 2014 (minus 3%).
In addition, there were lots of high-volume days so far this year and high volume has not exactly been good for stocks lately (on a day-to-day basis). Here's Jeff:
It is not unusual to see the market dip 3% in a month, especially after such a strong run-up throughout 2013. We have seen 18 months of losses for the S&P 500 since the bull market began 59 months ago in March 2009—that is about one-third of the months. The average decline during those months was 3.1%. So January's 3% stock market dip is not particularly unusual or alarming.

What was unusual about January's stock market trading was the volume. Importantly, the stock market and trading volume have not been on friendly terms in recent years. In fact, over the past five years' low-volume days (when stock trading volume is below its 50-day moving average) stocks have generally gone up, as you can see in Figure 1. Conversely, when volume is above average, stocks have generally been flat to down.
And his accompanying chart, which is killer: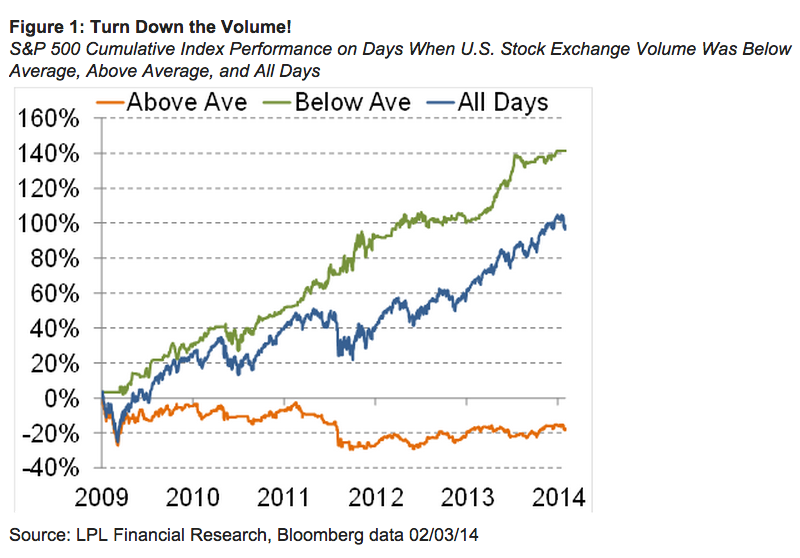 Jeff notes that January's trading volume hit levels not seen since May of 2010, the month of the infamous Flash Crash. And so we should not be surprised that volatility accompanied this surge of trading.
Source:
Turn Down the Volume
LPL Financial – February 3rd 2014
Follow Jeff on Twitter @jeffreykleintop