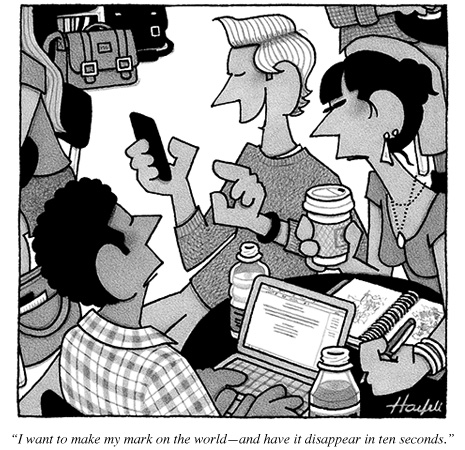 Snapchat and the entire "ephemeral web" concept is the goofiest thing I've ever heard. I can't imagine why people would want to be invested in it. The idea that disappearing content will ever have value – or that its transmission can be broadly monetized beyond a small niche of hardcore freak-users – is beyond my imaginative abilities.
But I'm almost 37 years old, so what the f*** do I know?
Here's my pal Bob Peck's view, which is that Alibaba (or someone) should buy Snapchat outright, via a Suntrust Robinson Humphrey note from a few weeks back. His ten reasons below:
Ten Reasons Alibaba Should Buy Snapchat

1- Alibaba could afford it and make the investment in stock which has been estimated as high as $200b and could also give Snapchat's investor more upside on the Alibaba IPO.

2 – Competition for messaging apps globally continues to increase with several players having large user bases in Asia including Tencent's WeChat, KaKao Talk, LINE, as well as Kik and Whatsapp. Alibaba understands the value of a prominent messaging platform and social networks, as it has demonstrated with its ~$580m investment in Sina's Weibo and partnership on payments.

3 – Alibaba sees the US as a strong growth market and is already making investments, such as its recent investment in Shoprunner – where it supplied the majority of the most recent $206m round according to reports.

4 – If press reports are accurate, Marissa Mayer at Yahoo! sees the value of Snapchat and could help advise Alibaba on the strategy (given Yahoo!'s 24% ownership in Alibaba).

5 – Alibaba is driven by commerce, and social commerce is still the Holy Grail that many companies like Twitter, Facebook, Foursquare, and Amazon have been aiming for.

6 – Snapchat could explode its user base if Alibaba could facilitate growth in China.

7 – Snapchat would find its revenue model: facilities e-commerce transactions.

8 – As many expect Alibaba to enter the US market more robustly in 2014, a fast growing social network would bolster its portfolio of services against the incumbent US competition.

9 – If Alibaba wanted to do a transaction of this size, it should be done while still private (a la Facebook / Instagram).

10 – The combination of Alibaba with a strong social and messaging platform like Snapchat adds to the potential for optionality. They could leverage the sharing network in areas like subscriptions, video content, and search monetization in addition to ecommerce. To put the leverage more in a domestic analogy – what if Amazon owned Snapchat?
Interesting stuff. I could be wrong (but I remain unconvinced).
Source:
Monday Meme: Ten Reasons Alibaba Should Buy Snapchat
SunTrust Robinson Humphrey – January 13th 2014