I've railed against the foolishness of chart overlays many times before, as have friends of mine like Dan Greenhaus. I understand the use of pattern recognition and the popularity of fractals, but when you see chart overlays presented like the "1929 vs Today" one that keeps popping up, you know for a fact that it's being used to generate attention, page views, ratings etc. There's nothing constructive about suggesting that price patterns indicate the coming of the next Great Depression. 
My friend Jon Krinsky, technical analyst at MKM Partners, blasted the below note out this morning…
***
There has been a lot of talk lately of the current market's relationship to the run up to the 1929 crash.
Tom DeMark from Monday interview comparing current market to 1929…
The key issue to recognize here is the scale. When you overlay the charts, but don't normalize them, they look very similar. When normalized, however (below), we can see they look quite different. From 1925-1929 the INDU was up over 230%. From the 2009 low to the 2013 high, the INDU was up 156%. So the rally in '29 was much more significant prior to the decline.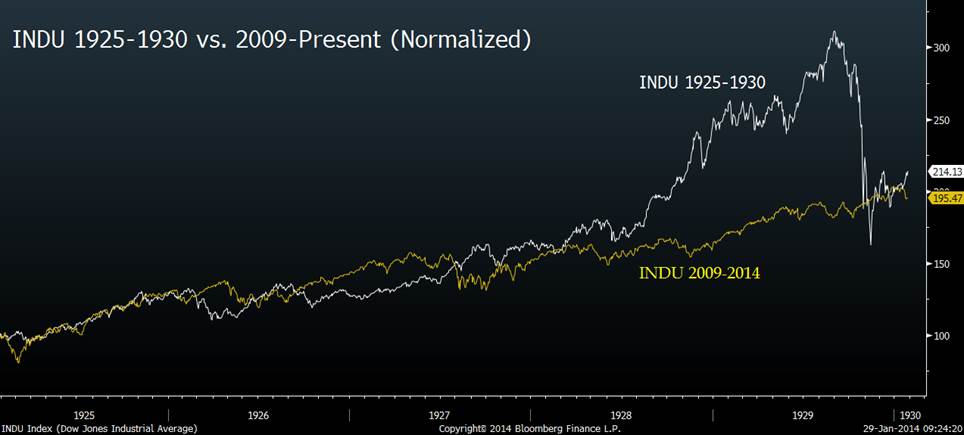 The second chart is the same one, but uses a NON-Normalized scale. This is the one that appears to be going around lately. You can see how closely they resemble each other. But as we highlighted earlier, the difference is the percentage advance in 1929, where it clearly went parabolic. The current rally from 2009, while mature, is much less extreme.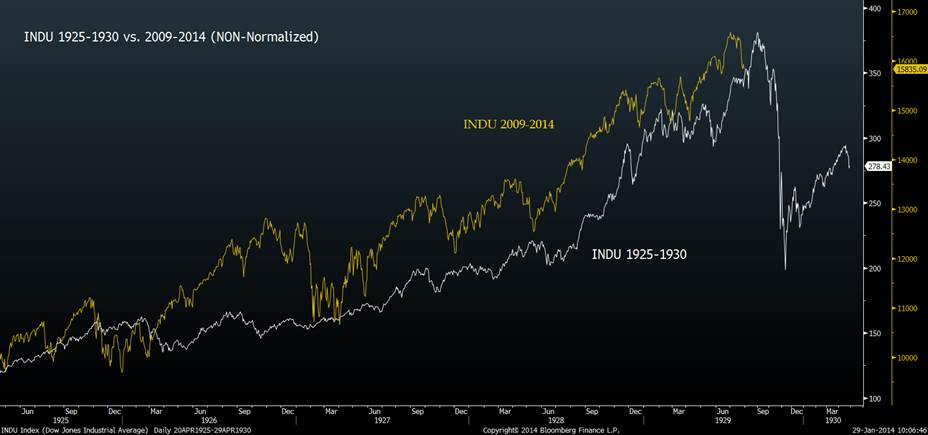 ***
Follow Jonathan Krinsky, CMT. on Twitter: