Make no mistake, the market is your adversary, not your friend. All other investors are your competitors, though there is a computer screen separating you from them and their faces you will almost never see.
This is why behavioral finance and investor psychology is the most interesting aspect of the game, the one that I obsess upon more than any other. All of the great investors throughout history have done this as well – Soros, Buffett and Munger, Lynch, Templeton, Livermore, Farrell, Loeb, Keynes, Baruch and Morgan, all students of the human animal. Keynes called this judging the judges of the beauty pageant as opposed to judging the contestants themselves.
One of the oldest tropes in TV, film and literature is the whole "To defeat my enemy, I must know him thoroughly – I must become him!" thing.
Sun-Tzu wrote about this. During World War II, General Montgomery obsessed over his nemesis, Erwin Rommel, and he kept a picture of him on his desk as he sought to get into the Desert Fox's head. John Travolta became Nic Cage in Face/Off for the same reason.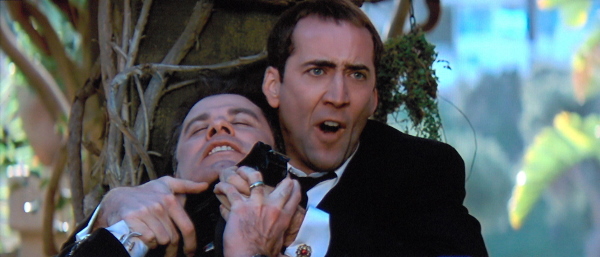 I believe this principle is important for those of us with money on the line, competing, as we do, with our "enemies."
Should we not be attempting to get into the market's head and even beat it to where it may be heading? With due consideration for risk management and contingencies in case we get it wrong, of course, I believe that this is precisely what we must do.
John Hussman may disagree with this. He has a great passage about the concept in his latest piece. He doesn't back off the idea that markets have been distorted (they obviously have, however they have been since the Greenspan Fed) but he does acknowledge that adjusting for the distortion all this time may have helped him in recent years…
My 17-year old daughter made an interesting comment the other day – "I feel like the problem you have is that you try to work honestly within a warped system, but in order to succeed in that system you need to have the same nature as it." It's certainly true that the Fed has encouraged reckless behavior and punished historically-informed investors for not going along. Fiduciary behavior is unrewarding here, and as a result, there is likely less of it. But we continue to patiently adhere to our discipline – confident in how both our pre-2009 methods and our present methods would have performed in this and prior cycles across history, in the absence of our awkward stress-testing transition earlier in this cycle.

My impression is that while recent Fed-induced market distortions are well-intended, they lack an adequate grasp of market history, valuation, and consequence. At least over the past couple of years, it's probably also true that to succeed in this speculative episode has required investors to share that same nature.
The question is, as investors shouldn't we be attempting to anticipate the anticipation of others as part of our process?
After all, prices only loosely reflect fundamentals and spend the majority of the time trading at either reckless premiums or absurd discounts to them. Given all we've seen throughout history, should we really be expecting a stasis of reasonable valuation to be the norm for any appreciable stretch of time? Should we be demanding sensibility of our fellow market participants or merely accepting of the fact that they can never be thus, at least not for long. We all know there are bubbles everywhere, but when have there not been?
My career began in the midst of the late 90's bubble and I've ridden the rollercoaster in every direction since – all I've ever known is distortion and an unreasonable climate, up and down. Why lament it when I can embrace it?
As David Tepper has been known to say, "It is what it is."
Sources: