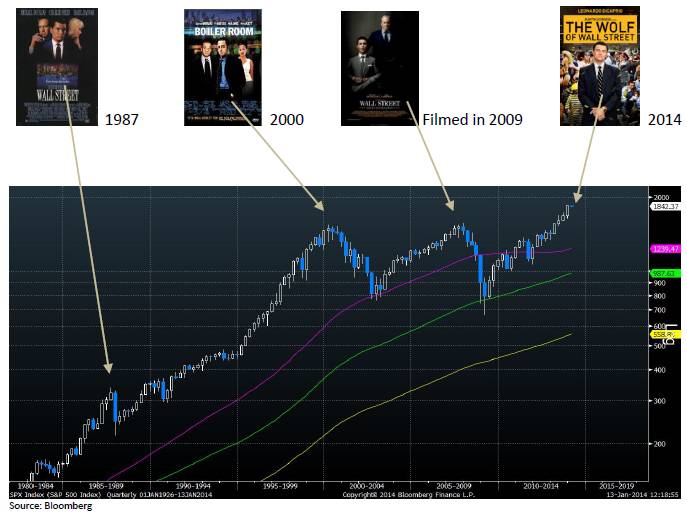 Better than the magazine cover indicator, I'll give you that. But here's the problem – Wall Street 2 was ABOUT a market crash that was already in progress during the movie's making.
Also, Wolf of Wall Street is not concurrent like the other films, it is historical, taking place twenty years ago during a bygone bullish era. It is not a celebration of the current bull market and it actually has almost nothing to do with actual Wall Street at all.
The Hudsucker Proxy was about Wall Street and came out in the mid-1990's, but again, it was historical. Danny DeVito played a corporate raider on Wall Street in Other People's Money (1991), which came out in the midst of a recession. Melanie Griffith played a secretary-turned-player in the M&A department of a Wall Street firm for the film Working Girl in 1988, smack dab in the middle of the secular bull market. Whoopie Goldberg's The Associate, about her posing as a shadowy investing guru on The Street, came out in 1996 – right around the time of Greenspan's "Irrational Exuberance" speech, but almost a full four years before the top of the market.
By the way, lest we not forget, Arbitrage came out in 2012 and Margin Call in 2011…not quite the top then, was it?
And then, of course, where the f*** is Trading Places on this chart – the grandaddy of all trading movies. I'm assuming it doesn't appear here because it came out in 1983, the very beginning of the greatest bull run of all time.