The latest Equity Client Flow Trends report is out from the quants at Bank of America Merrill.
This past week, we see that everyone is buying, save for hedge funds, who are net sellers for the second week straight. Flows are rotating away from defensives and "bond-like stocks" with a clear favoritism for cyclicals, which BofA says should persist into 2014 as economic growth picks up. In the meantime, everyone is selling ETFs and buying individual stocks – makes sense as correlations have collapsed and valuation dispersion is at fairly high levels (many stocks across the market all sport the same PE of around 16).
Here's Jill Carey, Savita Subramanian and the team:
Weekly flows by sector, client & size (1/6-1/10)

Clients kicked off 2014 as broad-based net buyers of all 10 GICS sectors last week, led by Tech and Health Care; only ETFs saw net sales. While flow trends have suggested a preference for defensives over cyclicals, last week's flows show the reverse, as the bond proxies of Telecom and Utilities—which were the only two sectors to see inflows in 2013—saw the most muted net buying of the 10 sectors.

And four-week-average flows into cyclical sectors turned positive for the first time since mid-October. We expect clients will rotate out of defensives and into cyclicals as growth reaccelerates in 2014.

Private clients led net buying, and have now bought stocks in all but 3 of the last 33 weeks since late May. Institutional clients were also net buyers for the fourth consecutive week, while hedge funds sold stocks for the second week in a row. All three size segments saw inflows, led by small caps.
Here's what last week's activity looks like vs the four-week average for context (the swing in materials and small caps should be grabbing your attention, as should the abandonment of ETFs):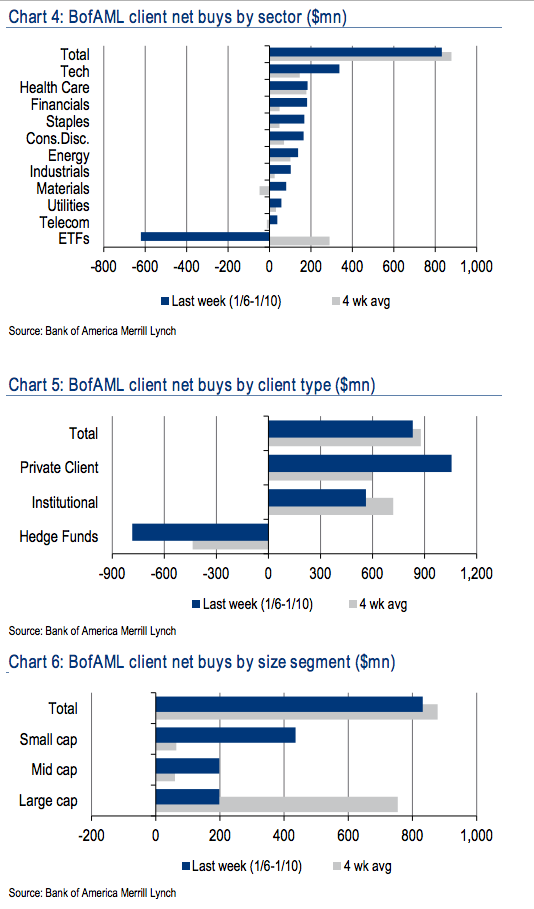 Source:
Broad-based net buying kicks off 2014
Equity and Quant Strategy | Bank of America Merrill Lynch