Sam Ro from Business Insider dredged up this Morgan Stanley chart for a post yesterday and I thought it was pretty amazing. What you're looking at below is the correlation between equity hedge funds (long/short mostly, I'd assume) and the plain vanilla benchmark that they're supposedly diversifying your portfolio away from.
Turns out that's not what's happening at all. Instead, the majority of the "hedge" funds in this category are merely giving you the most expensive beta you can buy and then taking a performance fee on top of it.
In recent years, that's done okay for their LPs – after all, who the f*ck wants to be "non-correlated" to the sixth best bull market of all time? And hedge fund managers that have gotten the whole rally right are to be commended, after all – they're certainly in the minority of their peer group. But as you can see, this isn't just a recent phenomenon; correlations between the equity hedge fund category and the market itself have been creeping higher for a long time.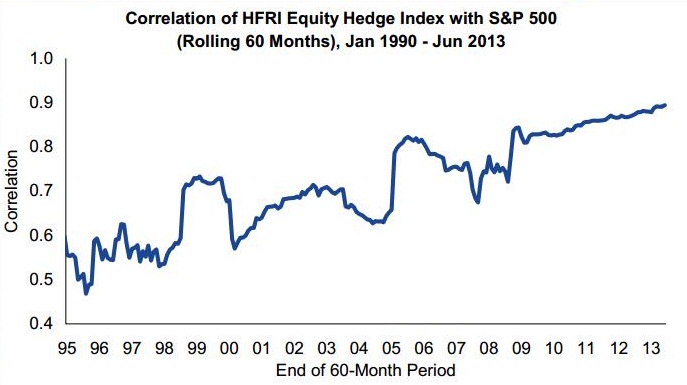 Source:
The Average Hedge Fund These Days Is Basically An Overpriced Index Fund (Business Insider)