Were the new record stock market highs of 2013 sufficient to confirm the onset of the new Secular Bull Market? Was last year 1982?
Or are we still mired in the Secular Bear that began in March of 2000, with the recent new highs serving as just a 2007-style headfake?
It strikes me that this is one of the most important questions we can ask – even knowing full well that it will be unanswerable until a decade hence.
My pal Jon Krinsky, the ace technical analyst from MKM Partners, weighs in on whether or not we're in a secular bull market for the first time since the early 1980's…
2013 finally saw a major breakout for the SPX above its 13 year trading range, which had been capped by resistance at 1576. While many have called this breakout the signal that we are in a new "Secular Bull Market", we are hesitant to do so just yet. In some ways, whether we call it a "Secular Bull" or not is just semantics. Nevertheless, our skepticism comes from two points.

1st – Just because the SPX has broken out into "open air", does not mean it is prohibited from falling back within the prior secular trading range. In fact, doing so would be consistent with the 1966-1982 secular bear market.

In that secular bear market, the SPX broke out above its 1973 secular peak by 15% in 1980, before having a final 27% decline into the 1982 low. As the SPX was breaking out in 1980, the Dow Jones Industrial Average was unable to exceed its 1973 peak. While this time around both the SPX and INDU have decisively broken above their 2000 peaks, several other indices have not.

2nd – The Nasdaq Composite (CCMP), S&P 100, and NYSE Composite have all yet to decisively breakout above either their 2000 or 2007 highs. Further, the Financial sector, which lost 85% in the '07-'08 decline, has yet to regain even 50% of that decline.

The other issue to the secular case is the lack of a major "higher low". Just like 1974 marked THE low for the 1966-1982 secular bear, we believe that 2009 marked THE low for the secular bear that started in 2000. However, in our view we have yet to see a major "higher low", like we did in 1982. Some would argue that October 2011 was that low, and while that may very well prove to be the case, that would make the most recent secular bear just 11 years in duration, or the shortest one that U.S. markets have seen since 1900.
…and here's Jon's chart (click to embiggen!):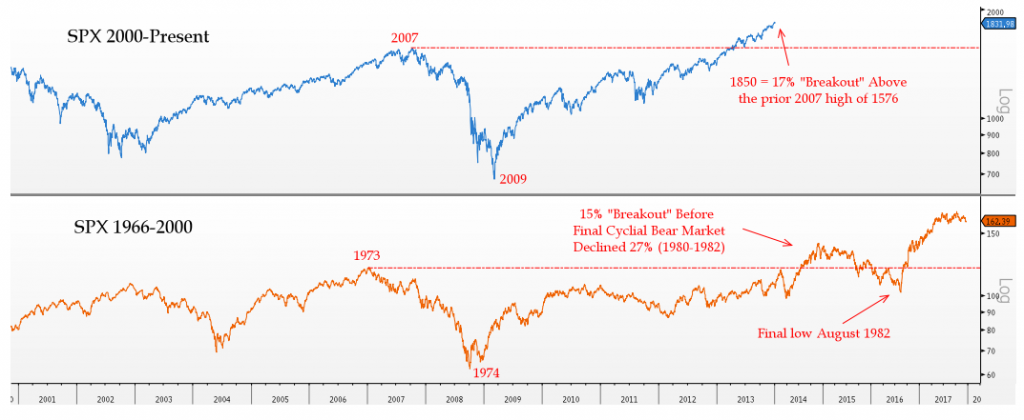 Jeff Hirsch (Stock Traders Almanac) said something similar the other day – that we're not quite ready for the real secular bull run – but he makes his case based on the non-confimation we're seeing in the overall economy. Can't have a boom without a boom, after all.
Here's Jeff's take:
As you may know we believe a long term secular bull market is in the works, but not necessarily fully underway. The next 3-5 years promise to be difficult for the global economy and the market. So enjoy it while you can. A major pause or two over the next few years is quite likely from an historical perspective.

While we expect this bull still has legs through Q1 2014, we suspect a more sizeable correction to transpire in 2014, perhaps in the 10-20% range. We have not had any major correction since 2009. The minor cyclical bear market in 2011 had little lasting impact.
It's interesting that neither of them – one being a technician and another being a fundamentalist – believe that the 21% correction of October 2011 qualifies as the "higher low" to set up the next secular bull market. That they arrive at the conclusion independently and from completely distinct frameworks is what makes this game so fascinating.
Follow Jeff and Jon on Twitter: