is interest rates that rise too quickly.
…and Bird Flu.
But on the rates thing – it is pretty important for us all to get up to snuff on how asset classes act during rate-rise cycles at this point.  I covered this a bit in my 2014 outlook piece this morning, but let's also look at Joe Light's story at WSJ from this weekend:
There is some good news: With higher rates, stock and bond returns should improve.

To figure out how interest rates affect gains, Elroy Dimson, an emeritus professor of finance at London Business School who researches the history of financial markets, and his colleagues Paul Marsh and Mike Staunton, looked at stock and bond performance from 1900 through 2012 in 20 countries, including the U.S., U.K., Japan and other developed and emerging markets.

Over those 113 years, average five-year returns for stocks and bonds were better when rates were elevated.

For example, when inflation-adjusted interest rates were between 0.1% and 1.5%—the range in which U.S. rates are now—stocks had an average annual total return, including dividends, of 3.9% after inflation over the subsequent five years, while bonds were flat.

In an interest-rate range of 1.5% to 2.8%—where rates were before the financial crisis—stocks historically have returned 4.9% annually over the next five years, while bonds have returned 1.5%.

"When interest rates are low, you've gotten rotten returns on bonds and rotten returns on equities," Prof. Dimson says.
Josh here – Now, of course, there are always contextual issues with this kind of data series, circumstances are always different and the variables that affect economies and markets are too numerous to ever be shoehorned into a clean apples-to-apples comparison. But there are general characteristics of rising-rate environments worth paying attention to regardless.
Also, I saved this graphic from a David Kostin (Goldman Sachs) strategy piece back in 2011, thought it might come in handy sometime. That time might be now: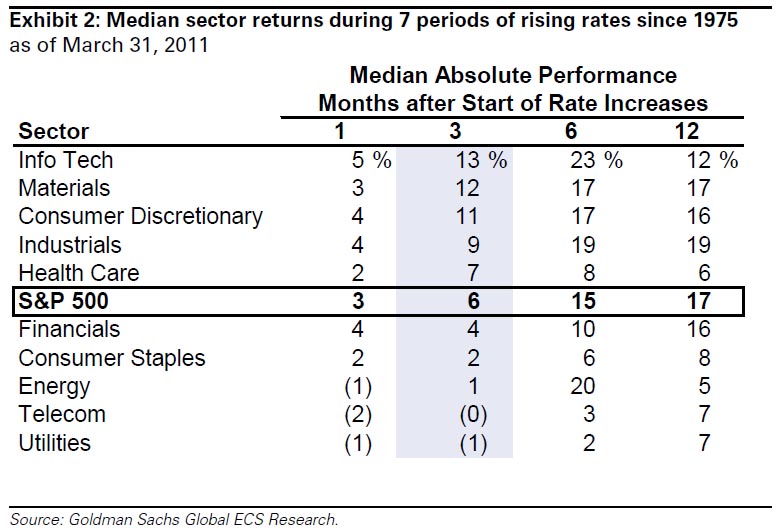 Something to consider, carry on.
Source:
How to Invest as Interest Rates Rise (WSJ)
Read Also: