One of my favorite secular growth trends happening right now is the stealth solar energy boom. I say stealth because people think of their neighbor's roof covered in photovoltaic shingles when you say solar energy – they have absolutely no idea how massive the industrialized version is going to be as power grids across America make the switch.
But what's happening now is bigger than that, it's a full-scale commercialization of solar technology, the buildout of an entire infrastructure meant to rival the filthy, inefficient coal-burning complex at some point in the future. According to NPD, "the pipeline of large-scale solar power projects in the process of being built in the U.S. will hit 43 gigawatts his coming year," which represents a 7% increase over such projects launched in 2013. And this is based on just the deals already signed as of today.
The whole key to solar is getting the cost down to the point where switching from fossil fuels becomes a no-brainer. It's all happening, thanks to technological innovation and the globalization of manufacturing.
Check out this chart of the cost of solar energy since 1970, via John Aziz at The Week:
That's one steep and long trend of falling prices. And there are new innovations in the pipeline that will improve the technology even more — in September a research team in Europe unveiled a solar cell with a world record 44.7 percent efficiency. Nanomaterials are being developed that may be able to boost solar panel efficiency from efficiencies typically below 35 percent to as high as 80 percent.

If the trend of falling prices continues for another 10 years, solar-generated electricity in the U.S. will descend to a price of $120 per MW/h — competitive with coal and nuclear — by 2020, or even 2015 for the sunniest parts of America. If the trend continues for the next 20 years, solar costs will be half that of coal (with the added benefits of zero carbon emissions, zero mining costs, and zero scarcity).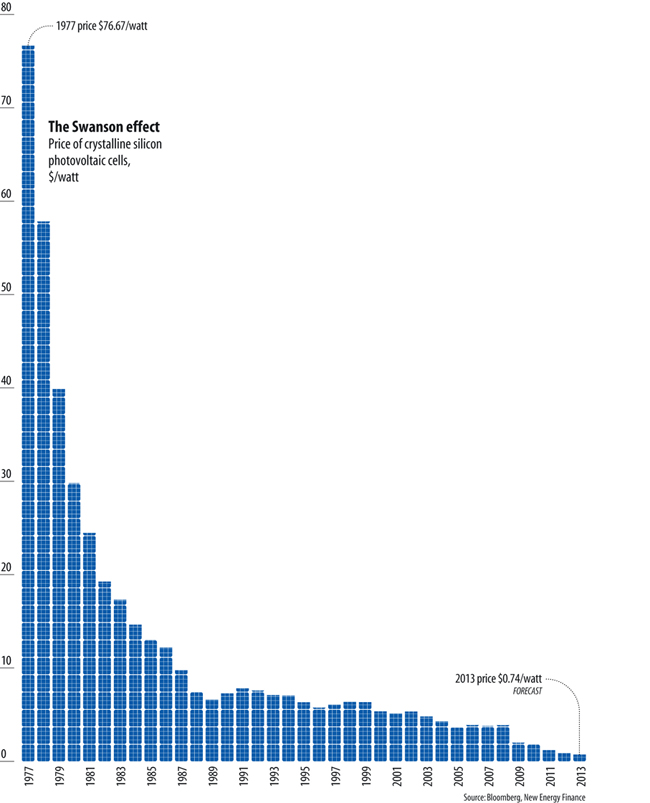 Josh here – these are exciting times for solar – profitability and projects abound, Google is building out data centers running on solar and Warren Buffett bought into one of the largest projects in the history of the industry.
I picked the Solar stocks ETF (TAN) as one of my five picks for 2014 in the CNBC Halftime Report Playbook Playoffs contest last week. These are obviously volatile stocks and not all of them will prosper –  but the future should be bright for the best of them if things play out the way I expect.
Source:
Get ready for a massive renewable energy boom (The Week)