Last night, for no discernible reason  that even the savviest tech watchers can think of (okay fine, an illogical reason involving block retaliations), Twitter announced a change to their blocking policy that would allow blocked users to view and even interact with the tweets of those who had previously frozen them out.
While the blocker would not be able to see the tweets of the blockee, the change was essentially turning the block feature into more of a mute button rather than a tinted window. One user compared the change to a home security system that allowed intruders into your house, but put a blindfold over your eyes so you wouldn't know they were there. Once the word spread, petitions went around immediately and the Twitterati could be seen flipping out all over the stream and around the blogosphere.
Upon learning of the new blocking functionality and witnessing the outrage, I had a hunch that this change in policy wouldn't last long.
I predict Twitter reverses this Block Amnesty thing within 90 days.

— Downtown Josh Brown (@ReformedBroker) December 13, 2013
Turns out 90 days would be more like 90 minutes.
Within a couple of hours of the original announcement, Twitter said "forget it" and changed the policy back to how it was.
This about-face was in direct response to the uproar amongst their users. As both a shareholder and a user of the service, I believe they did the right thing. The other alternative – to dig in their heels defensively or to stall for time and measure what effect, if any, this would have on engagement, would have probably been a disaster. I'm glad that management was quick to respond to what their customers wanted; social media firms need to be social entities first and foremost, and that means empathy with the consumer of the service.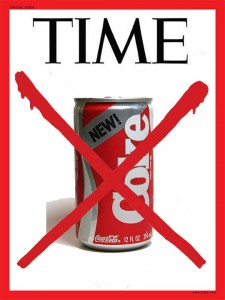 There is precedenct for this sort of thing – a consumer brand quickly realizing and correcting a strategic snafu.
On April 23rd, 1985, a press conference was convened at Lincoln Center in New York City to announce one of the most sacrilegious business decisions ever made by a consumer brand. The original formula for Coca-Cola, then approaching its 100th anniversary, was being tossed out in favor of a newer, sweeter, "bolder" beverage in order to counteract the market share gains of the rival soft drink maker PepsiCo. The assembled press, under the influence of Pepsi's marketing people and their own distrust, did not share the executives' enthusiasm although Wall Street bid up the stock initially.
But the public reaction as a different story. Within a week, awareness of the change was said to be over 80% and the backlash was more incendiary than any seen before or since in the annals of American corporate history. The company received over 400,000 written letters about the change that ranged from despondency to outright threats. Even those who admitted to liking the taste of New Coke were furious over the betrayal and the sense that something elemental in their lives was being tampered with.
Within less than 90 days, the Coca-Cola corporation capitulated. By June 11th, the company had jump-started full production of the original formula, rebranding it as Coca-Cola Classic (a marketing triumph every bit as historic as the epic fail that led to it). Customers forgave them and by the end of that year, Coke Classic was outselling both New Coke (which would eventually die of neglect) and Pepsi, which had been eating steadily into Coke's share of the soft drink business for almost forty years.
The average Twitter user is probably waking up this morning and reading about what had happened, but there's been zero discernible effect on their lives. Had Twitter allowed the backlash to grow in intensity overnight, this morning's news cycle would have been filled with Facebook-style handwringing over "privacy" concerns and online security (an oxymoron, but shhhh, don't tell anyone).
I believe that Twitter's response was the right one and that the company has learned a great deal about their "customers" in the process. Coca-Cola was nearing one hundred years old when it made the fateful decision to mess with the building blocks of its core product, Twitter is less than ten.
Cut 'em some slack.
Twitter's official announcement below:
Reverting the changes to block functionality (Twitter)