The Bank of America Merrill Lynch RIC Report is out and they've got ten themes for 2014. As one of these ten ideas, the Research Investment Committee picks up on something that I think is long overdue – the possibility of a shift away from consumer-driven recovery stocks into something more industrial or commercial.
If they're right, there's a huge swathe of the market that has been left in the dust by all the consumer spending plays this year…
6. Warehouses over townhouses

The stock market is in the early stages of a change in leadership from
domestic/consumer-oriented sectors to more global and cyclical/industrial ones,
in our opinion. And, relative performance is shifting away from sectors such as
Consumer Discretionary, Health Care, and Financials that have been significant forces
behind market gains for much of the last two years.

Instead, we expect performance to be driven by areas like Technology, Energy, Industrials, and Materials.

If revenue growth continues to accelerate as we expect, corporations are likely to
invest in their businesses by spending some of the cash accumulated on their
balance sheets. This capex cycle, combined with improving global economic
growth, is likely to benefit stocks in more industrial and cyclical parts of the
economy over those that are more dependent on the consumer. In our view, this
has already started, but probably is in its early stages (Table 5).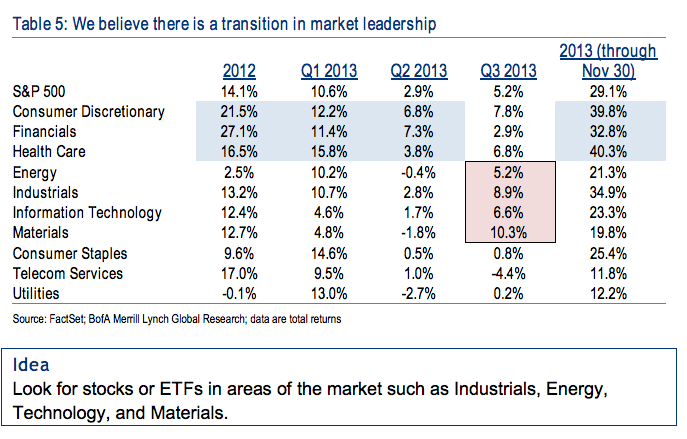 Source:
BAML